Professor Travels to Denmark for Conference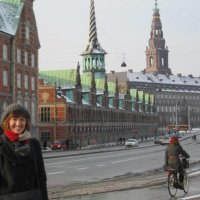 From Jan. 12-18, Dr. Sheryl Cunningham was in Copenhagen, Denmark at a conference titled Contemporary Rhetorical Citizenship, where she participated in a panel titled Rights, Rhetoric and Rules of Law: The Citizenship of Gendered Bodies.
Cunningham learned about discussion topics involving discourse and visual rhetoric that she looks forward to discussing with her Environmental Communication class this fall.

"Some places have given person hood to rivers and trees just like we have given person hood to corporations," said Cunningham. "I want to bring this to my Environmental Communication class to talk about the discourses of person hood for things in the environment. Is it effective or not?"

But her time abroad was not work without any fun. Cunningham enjoyed the culture and food while she was there.
"It was interesting to be in a place where it is assumed that you stay as long as you want," said Cunningham about the restaurants in Denmark. "We also had this traditional Danish lunch similar to a smorgasbord, I was surprised by how good it was."

Cunningham hopes to go abroad for conferences more often in the future to bring back additional discussion topics to her classes.
 
By Shelly Gregory, 2013