Alumnus Anna Morris ('10) Visits Campus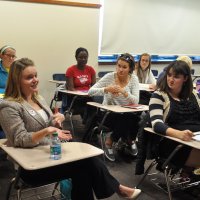 Anna Morris ('10) recently visited Wittenberg to visit and talk with Dr. Warber's Relational Communication class. During her visit, she listened to a presentation of the class's current project, similar to the one she did when she took the first relational communication class, and offered advice on both school and post-graduation living.
Morris currently studies at the Edinboro University of Pennsylvania and is slated to graduate this December. She boldly stated, "I never had any intention of going to grad school. Ever." But 15 months after her time at Witt, the opportunity to earn her Master's degree presented itself, and Morris jumped at the chance to get back in touch with her academic passions.
"The biggest challenge is making your own schedule. You have to be self-motivated." Anna went on to explain how she has to hold herself accountable while she pursues her higher education. And while it has been a lot of hard work and effort, she enjoys her focus which is integrated marketing communication.
Currently, Morris works at the Ohio State University as the Advancement Officer for Honors and Scholars; she even owns her own business, A.M. Communication. She landed the advancement position after a two hour presentation to the Institutions center on a prompt given to her four days beforehand.
"That's one of the things I'm most proud of, landing that job and starting the Albie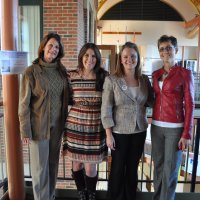 campaign here at OSU," Morris said. She smiles at the mention of the campaign, pulls her iPad out of her turquoise bag, and proudly brings up the Facebook page to show off her handiwork. Her unique project has garnered a lot of attention on campus: "The schools newspaper contacted me, they were actually writing a story on this." The campaign involves students being entered into a drawing by guessing where the mascot Albie (a creation of Morris's) is pictured in different close-up shots around campus. After creating this engaging idea, she passed the implementation off to her graduate student assistant and focused her attention back on the big picture communication strategy of the company; while little incentives are great for the short term, Morris is determined to create a plan that increases the longevity and notoriety of the program.
Seeing such dedication and success, the class was dying to ask how she handles her work-life balance.
"I'm still learning, but it's important to leave work at work and have those conversations with your boss on setting the expectations. You need to set a precedent of time management from the beginning before it becomes a problem."
But her work life wasn't always this rewarding. "Job searching was rough," she commented. "I didn't know what I was looking for." She referenced two jobs she held right out of college that just weren't the right fit for her. One found her in a sales position, talking to people but not using communication the way she wanted. The other position was in an organizational culture she didn't want to be a part of "I didn't last very long. I knew it during the interview process, but I went ahead and accepted the job thinking it would turn into something great. I just couldn't work in that environment." 
Her advice to seniors making their way towards the job market was, "Keep those connections, and be appreciative of what others are willing to do for you." She also stressed the importance of networking and finding a company that will encourage your professional development. Her most valuable words came towards the end of her talk when she was finishing her job history.
"You're not going to graduate and land your dream job right away, and that's okay."
Morris says her current job is her dream for now, but she has a five-year plan and hopes to become the Director of Communication at the Honors and Scholars program at OSU someday.
By Liz Guyer, 2013