Comm Leaders Discuss Future of Oral Communication Center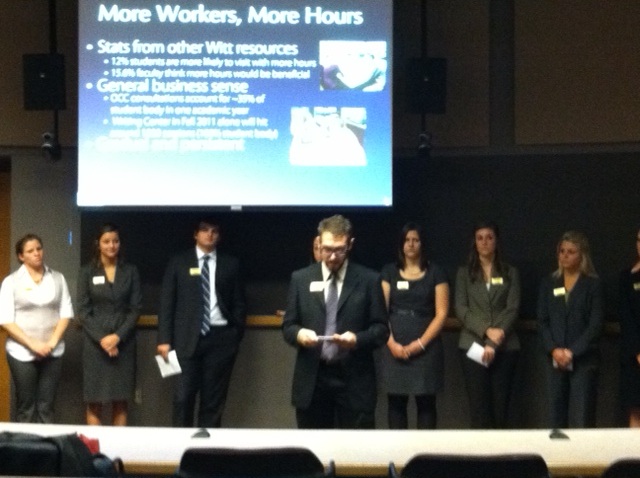 The 2011-2012 Communication Leaders presented their proposal about what lies ahead for Wittenberg's Oral Communication Center (OCC) on Monday, Dec. 5. In attendance were a variety of faculty and staff as well the provost, Dr. Chris Duncan.
The Communication
Tyler Hall, ('12) discusses the future of the OCC
Leaders are a group of senior Communication majors who are competitively selected based upon their leadership skills and academic excellence.  These students aspire to careers in a variety of business-related fields and the Communication Leaders program provides them the opportunity to meet leaders in the ranks of nonprofit and corporate America. They are directed by Dr. Katie Warber, Assistant Professor of Communication, and Mr. Tom Kaiser, Director of the East Asian Studies Institute. This year's group is comprised of twelve students: Katie Bauer, Alyssa Brake, Taylor Clark, Brian Duke, Dave Erickson, Tyler Hall, Hannah Leguillon, Dana Makstallar, Megan Monreal, Jenna Montali, Jenny Schaafsma, and Megan Tassone.
The group's fall project has been researching the mission and purpose of the OCC and how to maximize its potential in order to benefit the university. As it currently stands, the OCC is set to close after the 2011-2012 academic year because the Communication Department can no longer support ties with the OCC.
"We wanted to look at other options for how the OCC could survive without the Communication Department leading it," said Warber. "This is for the betterment of the university since it's such a valuable resource that should be taken seriously."
According to Dr. Stefne Broz, Chair of the Department of Communication, the OCC has been run by a faculty member in the department since it opened in 1998. This makes it different from the other Academic Resource Centers on campus, such as the Writing Center, Math Workshop, and the Foreign Language Learning Center, each of which has its own full-time director. "With a growing number of majors in our program, and a need to serve our students in the classroom, we simply – and unfortunately – cannot continue to provide directorship for this valuable academic resource."
Throughout their presentation, the Communication Leaders reiterated the importance of a speaking center, and advocated for a larger and more conveniently-located facility. They also focused on the need for an emphasis on rhetoric integrated into the curriculum at Wittenberg.
To watch the entire three-part Communication Leaders presentation about the future of the OCC, please visit the WittComm YouTube channel or watch Part One of the presentation by clicking here.