A Top-Notch Education Delivered By Award-Winning Faculty

Visit one of the nation's most active, engaged learning environments.
Wittenberg University provides a uniquely active and engaged learning environment that instills in its students the skills and confidence to make an impact on the world.  Students immediately sense the difference from their first time on campus, where it's the norm to see professors talking with students inside and outside the classroom. 
Students at Wittenberg  often jump right into their studies, their activities, and their communities.  They want to help, to serve, and to make a difference, not for awards or accolades but because it's just who they are as individuals and human beings. 
The active, engaged learning environment inspires students to discover their passion and purpose in life, all while challenging them to become responsible global citizens, to discover their callings, and to lead personal, professional, and civic lives of creativity, service, compassion, and integrity.  
Encounter a classroom experience that is ranked among the nation's best.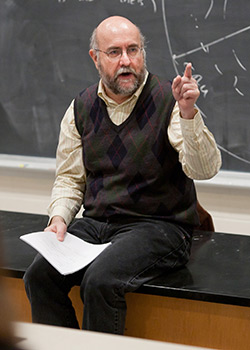 What makes a classroom at Wittenberg stand out? Try the fact that our faculty are 100% present in each and every one. What does that mean? It means that teaching assistants are no where to be found on our campus. Students here have direct access to their professors, who care not just about their career aspirations but about their lifelong journey. Hands-on learning opportunities are normal at Wittenberg, and the experiences often result in future collaborative projects between faculty and students.
The best classrooms have the best teaching, and Wittenberg's commitment to applied teaching shines not only in national rankings, but in the lives of Wittenberg students, who go on to lead personal, professional and civic lives of of creativity, service, compassion, and integrity.  
Discover your passion and purpose on our faith-based campus.
Uniquely tied to historic Wittenberg, Germany, where Martin Luther nailed his 95 theses on the door of the Castle Church – a move that eventually transformed the world – Wittenberg offers its own transformational educational experience designed to help students discover their passion and purpose.
The third oldest Lutheran college in the country, Wittenberg provides a nurturing environment where students learn to understand the meaningful connection between self-fulfillment and service to the world. Students of all faiths consistently seek out Wittenberg's Lutheran-inspired learning environment, one that shows compassion in action through service to the local community and abroad. By linking learning and service in a faith-based setting, Wittenberg reflects its Lutheran heritage as it challenges students to become responsible global citizens, to discover their callings, and to lead personal, professional, and civic lives of creativity, service, compassion, and integrity. 
Engage in collaborative research with award-winning faculty.
Associate Professor of History Darlene Brooks Hedstrom knows that a transformative learning environment creates lifelong learners.  Emphasizing the discovery of new knowledge by unearthing the past, the archaeologist regularly takes students out of the classroom to make them dig a little deeper, literally.  
This past summer, as part of Wittenberg's first-ever Maymester program, Brooks Hedstrom led an archeological excavation right on campus. She's also taken students to Egypt.
Her willingness to offer collaborative research opportunities for her students mirrors the actions of multiple professors at Wittenberg, to which senior Kim Lykens can attest.
Recipient of a coveted internship at NASA this past summer, Lykens noticed that many of her fellow interns clearly had not had the real collaborative student-faculty research opportunities she has had at Wittenberg.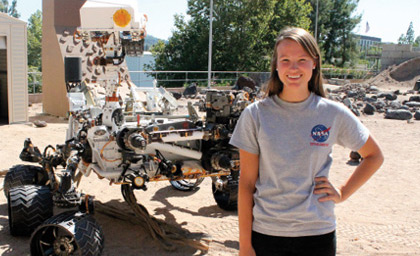 "All of my classes in biology, chemistry and astronomy really prepared me to be right there with the Ivy League interns," Lykens says. "At the same time, I have found that the research with my mentor at NASA is far more meaningful because we collaborate together, just like I have done with my professors at Wittenberg. If I hadn't had the collaborative research opportunities I've had at Wittenberg and was just memorizing straight facts that someone tells me, I wouldn't be able to create and conduct experiments in the way I did at NASA."
Lead with compassion, creativity, service, and integrity.
At Wittenberg, students learn how to lead and then lead by example in their careers, communities, and around the globe. It starts from a student's first year on campus. Whether a participant in Wittenberg's-own Emerging Leaders Program, or a member of the university's winning athletic tradition or as a member of any one of Wittenberg's 125 student organizations, opportunities to develop into compassionate, thoughtful, civic-minded leaders who embrace honesty and integrity abound. Add to those options a desire to serve beyond one's self as evidenced by the thousands of hours annually donated each year by Wittenberg students, and it's clear that Wittenberg's mission inspires not just for now but for a lifetime.