Wittenberg University Organist David Crean Tours Australia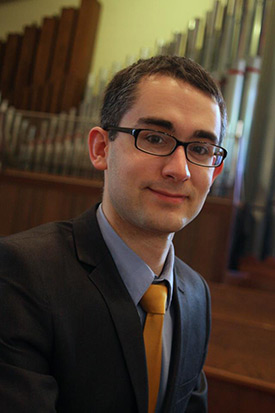 Springfield, Ohio – Wittenberg University Organist David Crean has been invited to complete his second organ tour in Sydney, Australia, March 12-31.
This year, the tour will be funded by the American Embassy in Canberra, allowing Crean's talents to reach many Australian audiences. 
"It's a great privilege to be asked to perform at any venue, much less one that is on the other side of the world, Crean said.  "I'm humbled that the promoters think highly enough of my playing to undertake such a project, and I'm excited to return to Australia. I found the audiences to be engaged, receptive, and excited, and I look forward to sharing some great music with them again."
Crean's connection with Australia began in 2012, when his current teacher and fellow performer, Paul Jacobs, recommended him to several event organizers. His first tour was a success and led to a second invitation in 2013, but funding problems prevented the trip from occurring. 
During the tour he will play an array of French, German, and American music, such as the Australian premiere of Prelude and Fugue in E minor, a work by American composer Henry Martin, as well as works by composers including Buxtehude, Bach, Mendelssohn, Guilmant, Boellmann, Vierne, Dupre and Hindemith.
Crean is a doctoral candidate at the Juilliard School in New York, where he served as an adjunct faculty member before joining Wittenberg's faculty in August 2013. He earned a B.M. in organ and a B.A. in politics from Oberlin Conservatory, and he earned a M.M. from the University of Iowa. A three-time American Guild of Organists scholarship winner and an avid writer, Crean supplied liner notes for Paul Jacobs's Grammy-winning recording of Messiaen's Livre du Saint-Sacrement.
"The organ is one of the most mysterious and misunderstood instruments in our culture, but these unique challenges also provide opportunities to open people's minds and introduce them to some really wonderful music," Crean said. "Ultimately, I just want people to feel something, and to experience a connection between themselves, their fellow audience members, me or the composer. Art transcends the isolation of our existence quite unlike any other human endeavor, I think, and I find that camaraderie extremely comforting." 
To learn more about Crean's Australian tour, visit his website at www.davidcrean.info.
- Written by Kelsey Claar '15