Wittenberg To Host 20th Annual Empty Bowls Fundraiser March 20
Springfield, Ohio – A community tradition continues on Thursday, March 20, as Wittenberg University hosts its 20th annual Empty Bowls event to raise much-needed funds for local food banks. Hosted by Wittenberg's Department of Art and Catholic Charities, with support from local sponsors and donors, Empty Bowls is scheduled for 4:30-7:30 p.m. in the Center Dining Room (CDR) on the second floor of the Benham-Pence Student Center.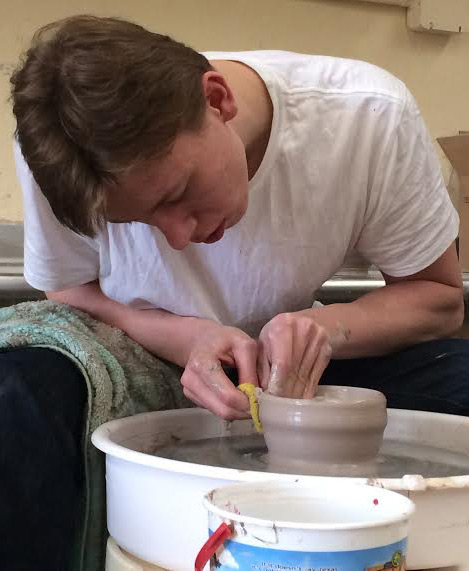 The price of the bowl and dinner remains $15 per person, which entitles participants to a hand-crafted bowl for soup and access to a soup, salad and bread buffet. The fundraising goal for the 2014 event is $40,000.
"This is truly a community event that brings in many people from Springfield, and it has become an important fundraising event for Second Harvest Food Bank as they work to provide for so many people in our community," said Professor of Art and Department Chair Scott Dooley, who has managed the university's role in hosting the event since coming to campus in 2000.
Proceeds from the event go to Second Harvest Food Bank, which provides food supplies to the poor and homeless throughout Clark, Champaign and Logan Counties. Anna Plataniotis, events coordinator for Catholic Charities/Second Harvest Food Bank, publicizes the event in the community, helps with food donations and meets with local sponsors.
The 2013-14 Empty Bowls student coordinator is James Dumestorf, class of 2015 from Goshen, Ky., a dual major in Psychology and Art, with a concentration in ceramics.
This event would not be possible without support from a wide range of sponsors, led by Dr. Dana and Judy King (Northside Veterinarian Clinic) and Wallace and Turner, Inc., designated Golden Spoon Sponsors for their level of commitment. Major event sponsors for the 2014 event include, Essex of Springfield Nursing and Rehabilitation Center, Rob Baker and Mary Jo Groves, Madison Avenue Pharmacy, Villa Springfield Health and Rehabilitation Center, the Union Club, and Sodexo.
VIP Sponsors include Assurant, Rollins Moving & Storage, Dr. Laurie and Jay Joyner, Speedway LLC, Mary Alice and Steve Neely, Kroger, the Greek Orthodox Ladies Philoptochos Society, Betsy and James Dean, Don Johnson, and Home City Federal Savings Bank.
Soup Sponsors include Sodexo Catering Service, Bob Evans Farm, Linardo's Villa, Mela Urban Bistro, Los Mariachis, Seasons Bistro Bar & Grille, Buckeye Sports Lodge, Essex of Springfield, and Mic's Italian Restaurant.
Salad and bread are donated by Dole Foods and Klosterman's Bakery. Promotional posters were designed by Hannah Fournier, class of 2014 from Dayton, Ohio.
Bowls are thrown using a pottery wheel and then trimmed, fired and glazed throughout the year. More than 1,000 bowls have been prepared for the 2014 event by volunteers, including students, faculty and staff members, and Springfield community members.
T-shirts designed by Fournier will be available for purchase and an artwork raffle will take place again this year. As always, each bowl will be washed by a volunteer before taken home, a reminder that every night someone's bowl is empty and many people go hungry each day in this country. Many years the bowls sell out – if this happens, patrons may enjoy a meal at a reduced price using disposable bowls.
Rainbow Table 1 soup kitchen will share any leftover food items from the event the next day.
Free parking is available in the lots behind Krieg Hall and the Benham-Pence Student Center, and both have entrances off West Ward Street.