Best in Class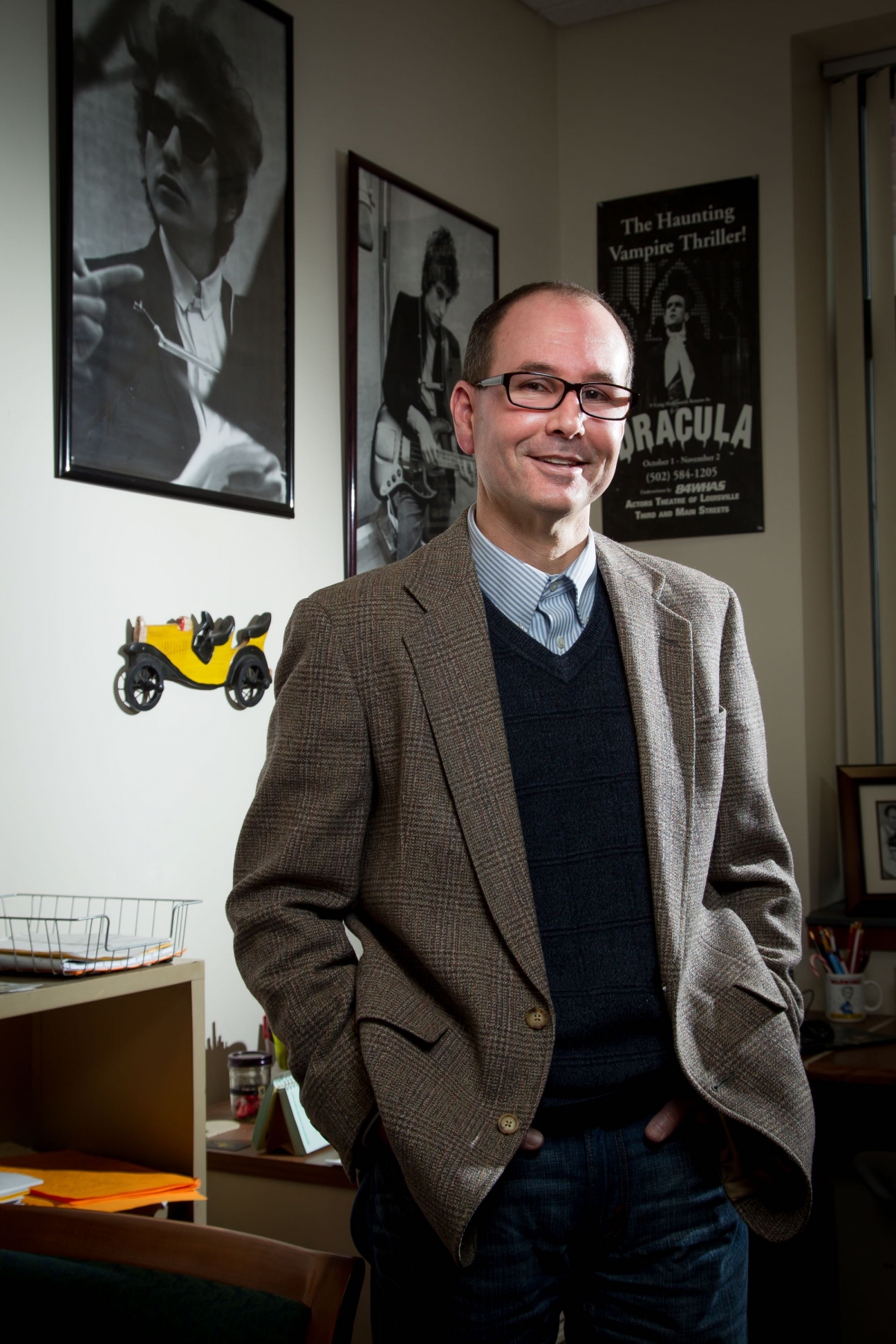 Writing Center Director Wins 2016 NCPTW Maxwell Leadership Award
Springfield, Ohio – Mike Mattison, director of the Writing Center and the Oral Communication Center at Wittenberg University, has won the 2016 Ron Maxwell Award for Distinguished Leadership in Promoting the Collaborative Learning Practices of Peer Tutors in Writing.
Presented at the 33rd annual National Conference on Peer Tutoring in Writing (NCPTW), Nov. 5, in Tacoma, Wash., the award recognizes a professional within the organization for dedication to and leadership in collaborative learning in writing centers, for aiding students in together taking on more responsibility for their learning, and, for promoting the work of peer tutors. Its presentation also denotes service to the evolution of the conference organization.
Nominated by former Wittenberg Writing Center peer advisor Emily Rayens, class of 2016 who is now a graduate student at the University of Georgia studying infectious disease, Mattison was selected by a committee of 14 previous award recipients. Rayens praised Mattison's scholarly expectations, supportive encouragement, collaborative vision, openness to change, dedication to improvement, and "indomitable optimism" as qualities that distinguish him as a leader.
Rayens said that Mattison inspires confidence in peer advisors by modeling a continual pursuit of improvement. He visits classrooms far outside his department (such as Organic Chemistry II) to find ideas for teaching more effectively. His love of learning and his openness to change are contagious.
"He passes his questions and curiosity on to his staff. His sense of indomitable optimism permeates our center," Rayens added.
The Wittenberg Writing Center plays a key role in enhancing and validating the importance of writing at Wittenberg. Student writing advisors under Mattison's direction provide consultation for all Wittenberg students, staff, and faculty engaged in all types of writing at all levels of ability. The Writing Center also offers an inviting and personal atmosphere where individuals can both develop successful writing skills and foster these skills in others.
Members of the selection committee admired Mattison's support for undergraduate student research and also noted his help with their own research as a peer mentor. Christopher Ervin, the 2015 award recipient, recalled meeting Mattison when they both participated in an annual summer institute for writing center directors in 2007.
"Mike offered wisdom and support for the ideas I shared with him about ambitious undergraduate research projects I wanted to see happening in our writing center and for writing I was doing about mentoring undergraduate writing tutor researchers. I found a mentor in Mike Mattison long after I had been working in writing centers for quite some time," Ervin said.
Rayens remembered meeting Mattison in "one of the strangest interviews ever" when she applied to become a Wittenberg University peer advisor.
"The conversation was completely terrifying, yet utterly fantastic. Dr. Mattison and I did not discuss logistics of working in a writing center or dwell for long on the motivations of my application. Instead, we talked about why I enjoyed writing and why I decided on the topic of my writing sample."
In her nomination letter, Rayens recalled that after Mattison signed her up, one of the things that most surprised her was that he treated peer advisors as his colleagues. He listened to their ideas and acted on them.
Mattison expects peer advisors to publish as scholars and attend conferences just as he does. In fact, that expectation is in their contract. The program of the 2016 conference, for instance, featured five presentations by Wittenberg peer advisors. Since Mattison arrived from Boise State University Fall 2009, Wittenberg advisors have given 17 presentations at NCPTW, in addition to presenting at other regional writing center conferences.
Rayens credits Mattison and the peer-advising experience for helping her in graduate school.
"I was able to collaborate on a number of professional papers. This is something I would not have felt confident participating in without my time in the Wittenberg Writing Center," she said.
Mattison received a check from the Maxwell family and a plaque engraved with a quote he chose as having informed his career: "He not busy being born is busy dying" (Bob Dylan).
The Wittenberg Writing Center has advisors ready to work with students on any writing project, at any stage of the writing process. Visit Writing at Witt for more information about writing-intensive classes and to view a host of writing resources.
About Wittenberg
Repeatedly recognized by the Princeton Review for its professor accessibility, superior classroom experience and longstanding commitment to sustainability. Wittenberg is a nationally ranked university for the liberal arts and sciences affiliated with the Evangelical Lutheran Church in America. A leader in providing an active, engaged learning environment defined by excellence in academics, innovation, student success, service and athletics, Wittenberg was recently named one of Forbes' Top 50 Most Entrepreneurial Colleges. Additionally, the university currently has more Ohio Professors of the Year than any other four-year institution in the state and recently earned a spot on the "Best Buy" list in the 2017 Fiske Guide to Colleges. For more information, visit www.wittenberg.edu.
Publish Date:
Thursday, December 8, 2016