K-6 College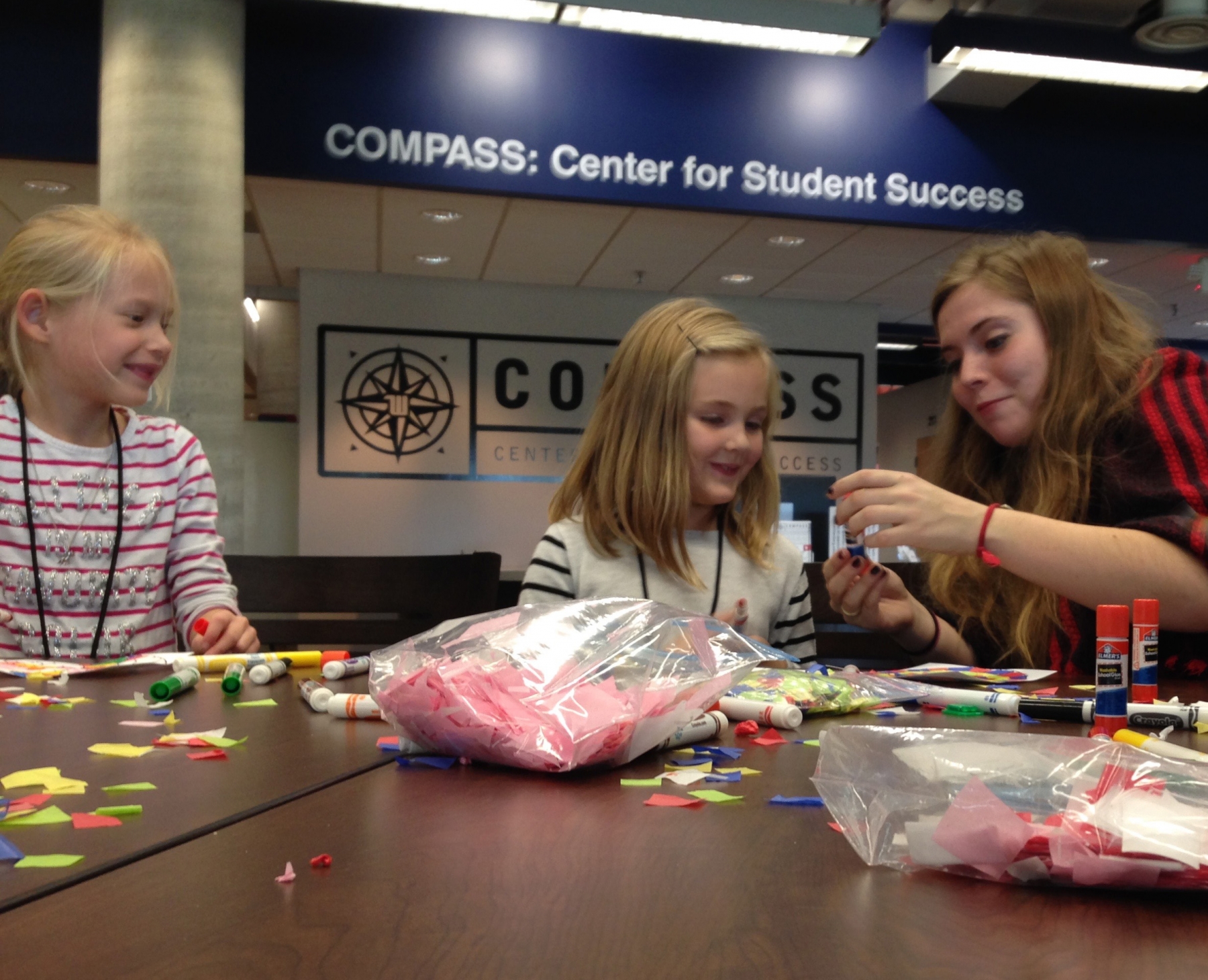 Elementary school students experience Wittenberg
Springfield, OH — Mini-Witt, a community service program offered recently by the Susan Hirt Hagen Center for Civic and Urban Engagement, provided children in grades K-6 with a sneak peek at college life. 
Organized by student coordinators Maggie Peale '17 and Sam Strich '18, the third annual Mini-Witt engaged approximately 50 children in experiencing life as a Wittenberg student. The event was held in honor of the Make a Difference Day celebration.
Created in 1992, Make a Difference Day remains one of the largest celebrations of service in the United States. Consistent with its Lutheran heritage and institutional mission, Wittenberg encourages students to give back through programs like these.
During the event, participants learned about college through five different stations located in Thomas Library. Children spent 25 minutes at each station managed by student volunteers. Stations featured games and crafts, along with exposure to science, literacy and drama.
At the game stations, for example, children played Frisbee golf, which is a staple of the Wittenberg experience with hundreds of students easily spotted each fall and spring  playing the university's nationally endorsed course.
At the craft station, students were given a printout of a glass windowpane to color. The students then taped their work to a collection of their schoolmates' work, which, when all together, revealed both the diversity and beauty found at Wittenberg and in life.
At the literacy station, students read a book with a college volunteer, while at the drama station, students could play games that facilitated real-life discussions about acting, emotions and just having fun. Students then learned the importance of real-life application using a handmade puzzle at the science station, which they could take home after the event.
-By Devon Atchison '19, Office of University Communications
About Wittenberg
Repeatedly recognized by the Princeton Review for its professor accessibility, superior classroom experience and longstanding commitment to sustainability. Wittenberg is a nationally ranked university for the liberal arts and sciences affiliated with the Evangelical Lutheran Church in America. A leader in providing an active, engaged learning environment defined by excellence in academics, innovation, student success, service and athletics, Wittenberg was recently named one of Forbes' Top 50 Most Entrepreneurial Colleges. Additionally, the university currently has more Ohio Professors of the Year than any other four-year institution in the state and recently earned a spot on the "Best Buy" list in the 2017 Fiske Guide to Colleges. For more information, visit www.wittenberg.edu.
Publish Date:
Wednesday, November 30, 2016