Focusing On Peace
Wittenberg Students Celebrate MLK Jr. Day of Service
Springfield, Ohio – Wittenberg students passed their light on to a younger generation during the seventh annual MLK Jr. Day of Service.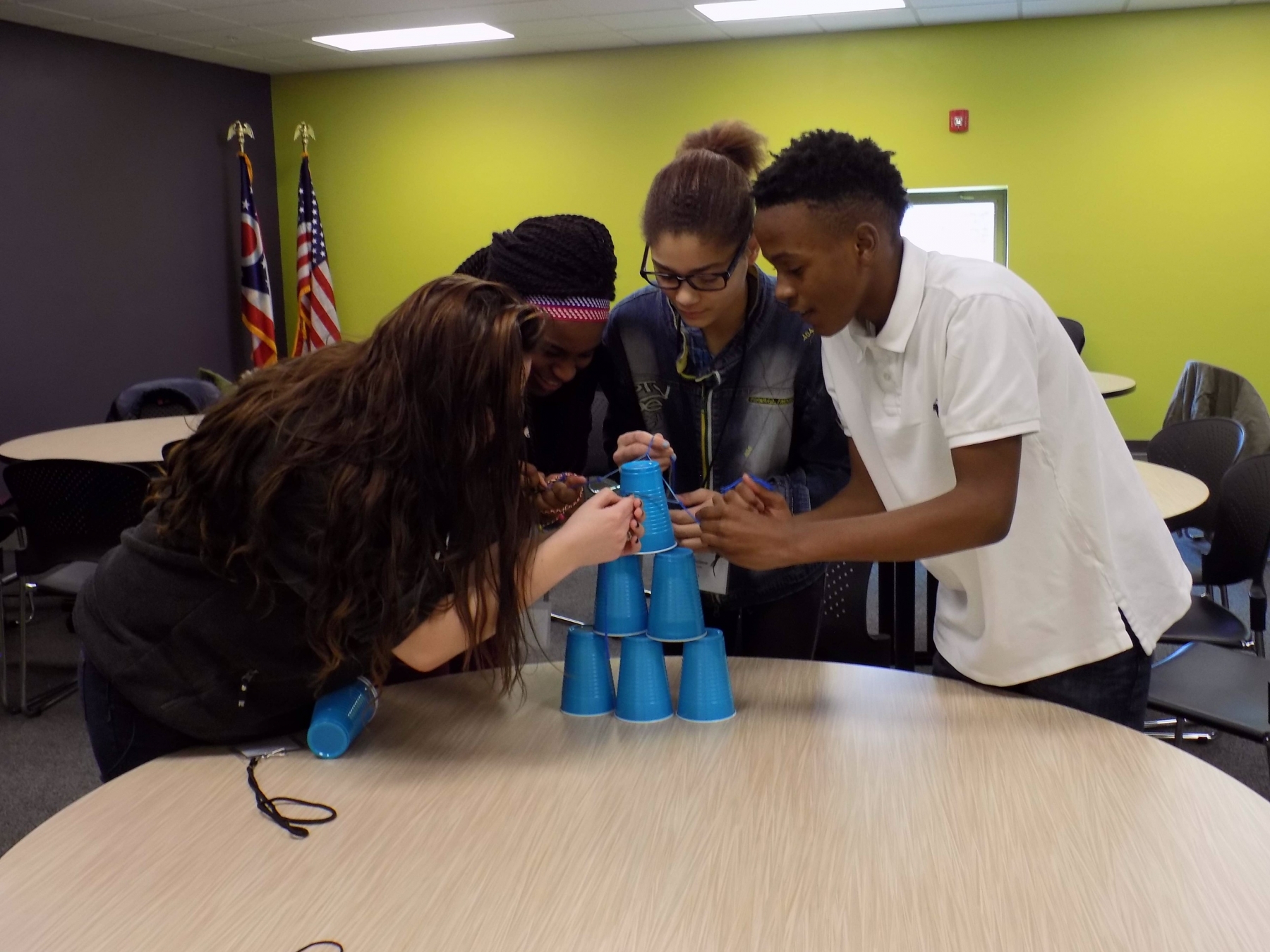 More than 15 volunteers from Wittenberg's Community Service Program in the Susan Hirt Hagen Center for Civic & Urban Engagement partnered with Hayward Middle School at YouMedia, located at the Springfield Center for Innovation: The Dome, 700 S. Limestone Street in Springfield for a day that focused on peace. The Hayward students learned about peace in their daily interactions through a combination of activities that included games, crafts and an educational debate.
The event was coordinated by Hagen Center student interns Jaymi Green '17 and Sarah White '17. The two hope that the day will allow students to begin seeking peace in their interactions with one another.
"There are commonalities between everyone and stressing this to them will hopefully get them to see that in their everyday life and embrace the opinions of other people, rather than being scared or angry about them," said White, a biochemistry major from Clinton, Ohio.
Sophomore volunteer Bethany Newell, an education major from Louisville, Ky., stated that Wittenberg students have an obligation to help the community around them, and this event was an important opportunity to do so.
"The news media today talks most of times of unrest and non-peaceful situations," Newell said. "That takes a toll on developing minds. They need to know that anger is not the answer and that they personally can be peaceful in a not-so-peaceful situation."
In addition to participating in peace-filled activities, the group also received a tour of the YouMedia Makerspace. The Makerspace is available to Springfield City high school students to "hang out, mess around or geek out," exploring interests in art and technology with the help of community mentors. The YouMedia Learning Lab and Makerspace were developed through Ohio's Straight A Fund, which provides funding for innovative learning projects that work to advance student learning, especially in STEM fields.
Wittenberg and Hayward students alike were excited about what they saw in the Makerspace.
"The space was one of the most impressive learning environments I have ever seen," Newell said. "It is important for kids to see what technology is out there and available to them."
Green said that her main goal in coordinating the event was to honor Martin Luther King Jr. and his teachings while giving the Hayward students an opportunity to experience how to have difficult conversations peacefully. This was simulated through the day's educational debate activity.
"It's important to plant a seed of respectfulness in a younger generation," said Green, a history and communication major from Radnor, Ohio. "We do not want the students to put their own beliefs on the wayside for the sake of peace… but we do hope that they are now always thinking of how to find the commonalities in anyone they may disagree with."
- By Stephanie Glass '17, Office of University Communications
About Wittenberg
Repeatedly recognized by the Princeton Review for its professor accessibility, superior classroom experience and longstanding commitment to sustainability, Wittenberg is a nationally ranked university for the liberal arts and sciences affiliated with the Evangelical Lutheran Church in America. A leader in providing an active, engaged learning environment defined by excellence in academics, innovation, student success, service and athletics, Wittenberg was recently named one of Forbes' Top 50 Most Entrepreneurial Colleges. Additionally, the university currently has more Ohio Professors of the Year than any other four-year institution in the state and recently earned a spot on the "Best Buy" list in the 2017 Fiske Guide to Colleges. For more information, visit www.wittenberg.edu.
Publish Date:
Monday, February 20, 2017