Annual Leadership Awards Announced
Office of Student Involvement Bestows 22 Awards During Annual Ceremony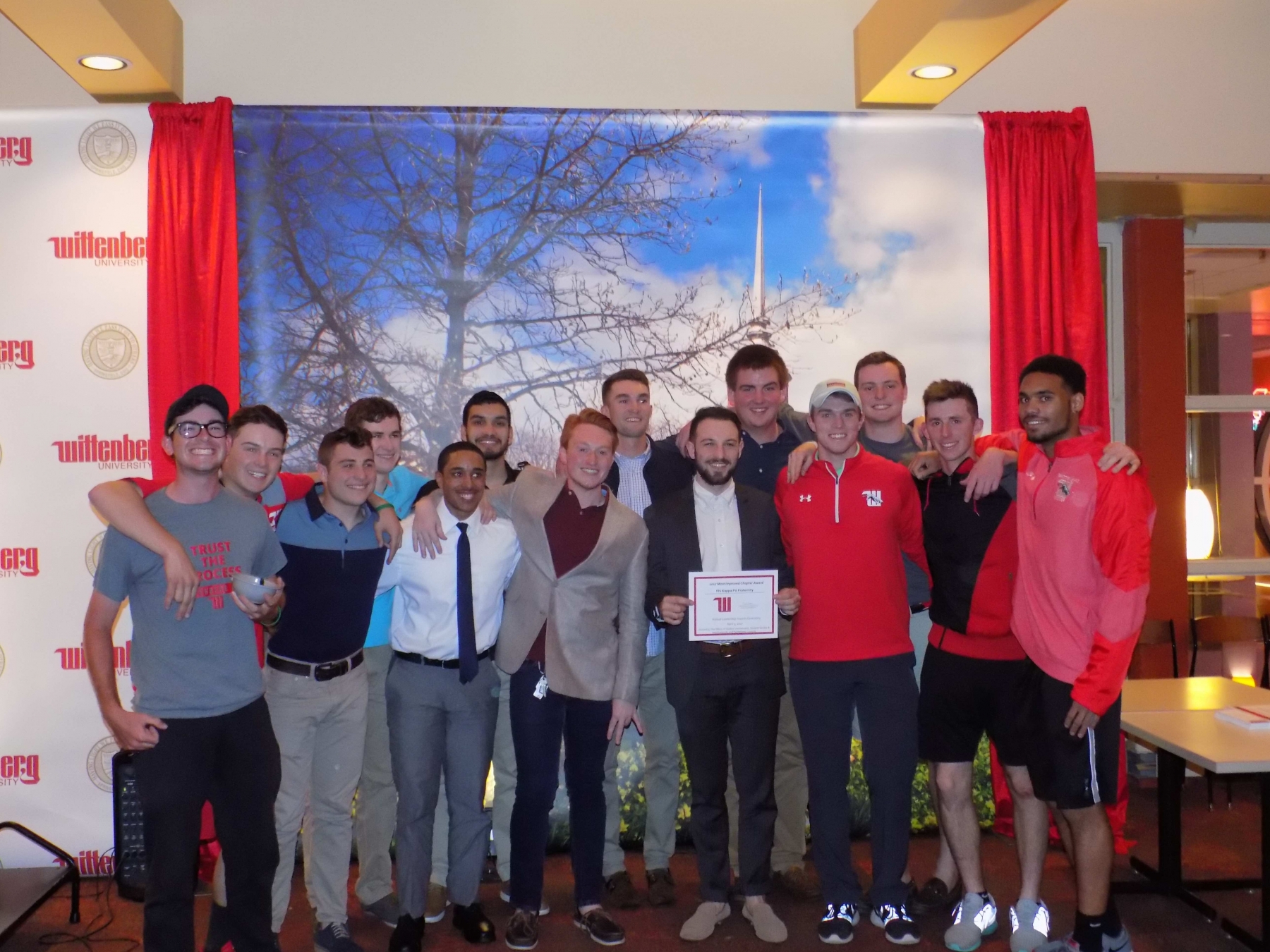 Springfield, Ohio – Wittenberg's Office of Student Involvement hosted the seventh annual Student Leadership Awards to kick off this week's Liberal Arts in Action: Celebration of Learning.
The ceremony took place at the Benham-Pence Student Center's Dining Room on Wednesday, April 5, and celebrated individuals, organizations and events that impacted the campus community in a positive way throughout the 2016-17 academic year. Committee members received 101 nominations for 22 awards.
The event is sponsored by Student Involvement, Student Senate, the Interfraternity Council and the Panhellenic Council and celebrates leadership at Wittenberg, while honoring deserving individuals, organizations and/or departments for their contributions to the success of the university.
Members of the selection committee included representatives from Student Senate, Student Athlete Advisory Council, Interfraternity Council, Panhellenic Council, Residence Life, Campus Ministries, Concerned Black Students, American International Association, Gender & Sexual Diversity Alliance, the Hagen Center, and representatives from the faculty and the administrative staff.
For generations, Wittenberg has intentionally provided meaningful curricular and co-curricular opportunities to develop future leaders, all while helping students achieve personal and professional success. Today it's called the #WittFactor. Learn more at www.wittenberg.edu/admission/wittfactor.
The following is a list of this year's winners: 
Program of Year Award – Immigration Panel (Sigma Delta Pi and the American International Association)
Contributions to Community Involvement Award – Celebrate Service Programs
Outstanding Community Service & Philanthropy Award – Chi chapter of Alpha Delta Pi and the Nu Zeta chapter of Lambda Chi Alpha
Dietrich Academic Excellence Awards – Chi chapter of Alpha Delta Pi and Alpha Gamma chapter of Beta Theta Pi
Advisor of the Year Award – Brandon Jones, Department of Music, advisor for OCMEA and Tiger Pep Band
Volunteer Advisor of the Year Award – Drew Kolb, Beta Theta Pi
Contributions to Community Living Award – Casino Night
Richard R. Scott Faculty/Staff Member of the Year Award – Jon Duraj, Associate Dean of Student Success and Retention
Contributions to Health and Wellness Award – Lindsey Criswell, Project Woman advocate
Wittenberg Woman of the Year Award (student) – Megan Bobbitt
Wittenberg Woman of the Year Award (faculty) – Ruth Hoff, Department of World Languages
Wittenberg Woman of the Year Award (staff) – Carol Nickoson
Celebration of Diversity Award – The Facing Project, coordinated by Lauren Instenes
Contributions to Religious and Spiritual Life Award – Interfaith Initiatives, coordinated by Zara Tickner, Jewish Culture Club and the Interfaith Committee
Most Improved Chapter Award – Phi Kappa Psi
Tiger Award – Kyle Powers, Kelsey Lorko, Kamyia Fletcher, Cameron Black, and Evan Barnard
Unsung Hero Award – Angie Fairbanks, Joe Robinette, Grace Whiteley, JoAnn Bennett, and Brian LeMaster
Emerging Leader of the Year Award – Zach Hobson
Greek Woman of the Year Award – Molly Records, Alpha Delta Pi
Greek Man of the Year Award – Joshua Marks, Phi Kappa Psi
Club Sport of the Year Award – Club Basketball
New Organization of the Year Award – Tiger Pep Band
Chapter of Excellence Award – Delta Tau Delta
Student Organization of the Year Award – Alpha Phi Omega
-Office of University Communications-
About Wittenberg
Repeatedly recognized by the Princeton Review for its professor accessibility, superior classroom experience and longstanding commitment to sustainability, Wittenberg is a nationally ranked university for the liberal arts and sciences affiliated with the Evangelical Lutheran Church in America. A leader in providing an active, engaged learning environment defined by excellence in academics, innovation, student success, service and athletics, Wittenberg was recently named one of Forbes' Top 50 Most Entrepreneurial Colleges. Additionally, the university currently has more Ohio Professors of the Year than any other four-year institution in the state and recently earned a spot on the "Best Buy" list in the 2017 Fiske Guide to Colleges. For more information, visit www.wittenberg.edu.