Student Ambassador Zach Cole '15 Helps Wittenberg Go Google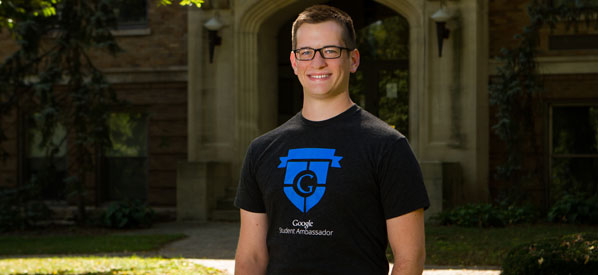 Zach Cole, class of 2015 from Florissant, Mo., exemplifies the dedication to learning and community involvement that sets Wittenberg students apart, and this year he has teamed up with Google and student leaders from around the world to bring innovative apps to education.  
The business and East Asian studies double major and Chinese minor was selected to join the Google Student Ambassador (GSA) Program, which enables students who are highly active on campus to act as liaisons between Google and their respective colleges. Ambassadors learn about innovative products and programs, plan and host events on campus, serve as campus contacts for Google teams and help Google better understand each institution's culture.
After attending a training summit at the Googleplex in Mountain View, Calif., where he tested new products such as Google Glass and explored the corporate headquarters via Google Bike—all part of the training—Cole found Wittenberg and Google strikingly similar.
"Googlers describe people who are easy-going, humble and effective assets to their communities as 'Googlely.' I think Wittenberg is pretty Googlely," Cole said. "Everyone here is a go-getter and looking to improve our community."
Cole hopes to help Wittenberg join the 15 million students, staff and faculty who have already "Gone Google" by utilizing the latest technology for education.
Associate Professor of Business Tom Kaplan believes Cole represents the type of person who thrives at Wittenberg and his involvement represents how students should engage in the college experience.
"To any prospective or incoming Wittenberg student, Zach offers a perfect example of what you should aspire to be," Kaplan said.
"He enjoys tackling hard, unstructured problems, and I have never seen him shy away from something because it's hard.  Just the opposite, he seeks out challenges – the harder the better – realizing that he has no idea what his true potential might be.  In doing so, Zach continues to achieve bigger and better things."
Some of Cole's achievements include studying Chinese at Fudan University in Shanghai, where he also took marketing courses, and managing the annual Entrepreneurial Business Award program for Clark County with a team of fellow business students. His leadership and experience with these projects and others play a key role in the logistics of being a GSA, which include handling communications, publicity and planning events, Cole said.
His most notable campus event, a viewing party for the first annual YouTube Music Awards show, included YouTube trivia and a Google Nexus 7 tablet raffle, and upcoming events will include a Google Hangout session on Career Opportunities.
But it's Cole's personal interaction and collaboration with other students that have had the most impact on bringing new technology to campus.
"A leader of a student group saw me using a Google Form and asked me how she could implement it to streamline sign-up processes in her organization," Cole said. "Even in group work for classes, I have encouraged groups to use Google Drive for collaborative purposes. Everyone working on the same doc at the same time is pretty awesome!"
Embracing Wittenberg's tradition of hard work, creativity and innovation, Cole's work on campus is preparing him for professional success after graduation.
"Being immersed in the Wittenberg culture has really prepared me to think like a Googler would. The outside-the-box thinking that comes with a great liberal arts education is exactly what a fledgling Googler needs."