Investment in Action
Wednesday, April 9, 2014
Springfield, OH—Students of Dr. Rachel Wilson's Investment Analysis class, and student members of WittInvest were given the opportunity to attend the 2014 RISE Forum at the University of Dayton.  Considered the biggest student investment strategy conference in the nation, RISE is held every year at the University of Dayton (a mere 30 minutes away from Wittenberg University) where experienced investment experts from Wall Street, corporate America, government, and the financial media come to share their knowledge in investment strategy.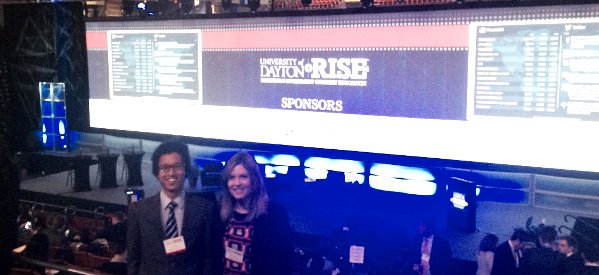 This year, students were treated to the likes of CNBC's Jim Cramer and Sandra Pianalto, Chief Executive of the Federal Reserve Bank of Cleveland.  Cramer, known for his lively show, "Mad Money," was brought in live via satellite, and answered numerous questions from students around the country regarding bull markets, his fiery investment strategies, and more.
Pianalto, the keynote speaker of RISE, gave an outstanding lecture on the future of the Federal Reserve Bank, and also answered questions for students interested in macroeconomics and how it relates to investment strategy.
The second day of the event featured numerous break-out sessions, and students chose four sessions to attend in classroom settings throughout the day.  The classrooms provided personal interaction between speakers and students, and gave students the chance to focus on a specific area of investment interest.
To sum things up, RISE connects leaders in investment and finance with those aspiring to take their place in the future.  Wittenberg students are encouraged to take advantage of these opportunities to help  supplement what they learn in the classroom.
-Ben Hogenkamp '14