Portfolios Launch Seniors Into Business World
Sunday, February 16, 2014
Springfield, OH—Last Thursday, the portfolio process was completed by all outgoing senior business majors. Each student submitted an electronic portfolio containing their best work while at Wittenberg, and then presented that information to faculty, alumni, and local business leaders.
The portfolio process was created with the intent of preparing graduating seniors for the business world.  Part of this process involves helping students determine which of their accomplishments and experiences will help "set them apart" from other graduating seniors in a competitive job market.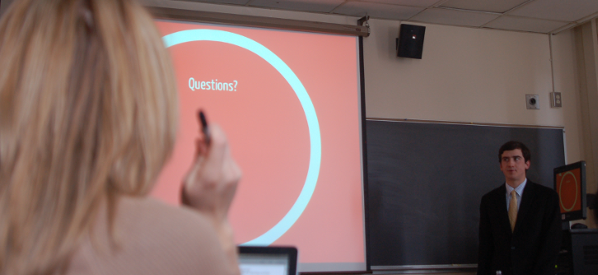 Following Winter break, students submitted their electronic portfolio.  This written document contains numerous assets the job-seekers can use to their advantage in future interviews.  Students were required to generate stories that encompass their understanding of the eight department learning goals.  These stories are then supplemented by evidence which physically portray projects the students completed in class work, internships, or applied business projects through the Business Department.
Once their electronic portfolios were submitted and approved by the faculty, they then set out on their portfolio presentations.  The presentation component not only tests the students' verbal communication skills, but also assesses their ability to think on the spot.  This year, students were given five minutes to explain why the audience should select them for their desired job following graduation.  After the brief presentation, faculty, alumni, and local business leaders who sat in on the presentations, initiated the fifteen minute Q&A session, in which students are quizzed about their submitted portfolio and work aspirations.  The audience then provided feedback on both their electronic portfolio and their presentation, giving suggestions as to how they can improve their ability to handle interviews and the working world ahead of them.
In addition to the assessment, the entire group of reviewers got together to discuss who would earn the honors of distinguished status and also honorable mention on their portfolio.  The distinguished status proves a student's overall excellence in the portfolio process.  This year, Ashley Brake, McKenzie Hopkins and Silas Newcomb were the three seniors to earn the status.  Their exceptional work will be recognized at graduation.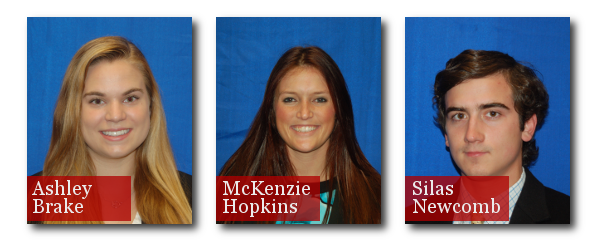 Seven students, Molly Alderson, Jenna Gentner, Ben Hogenkamp, Francine Murzynski, Deanna Mychalishyn, Steven Newell and Tyler Visagie earned honorable mention on their outstanding portfolios.
-Ben Hogenkamp '14