Advancing the Common Good
Since its founding, Wittenberg has insisted on instilling in its students a willingness of spirit to serve beyond themselves. From the classroom to the local community and around the globe, Wittenberg intentionally provides opportunities for its community of learners to give back to the world and promote social justice.
As the university's value on service notes, "Service requires us to learn about community needs, about who we are, and about what we can contribute. We are dedicated as faculty, staff, and students to advancing the common good as local citizens and as members of the global community."
About this project: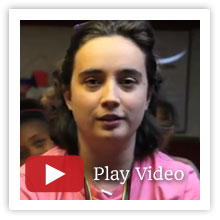 For Emilie Naccarato, class of 2016, joining the Wittenberg community meant full immersion in the Springfield community as well. Always wanting to help others, Naccarato, from Athens, Ohio, began volunteering at The Ark South in Springfield, a faith-based, after-school program for children in grades K-6.
In addition to playing games with the children and helping with homework, Naccarato is also building lasting relationships with each child in a way that makes a difference. Her commitment to service reflects Wittenberg's mission, which encourages students to see the world through others' eyes and embraces responsible global citizenship.
Related links: