Wittenberg's Creative Writing Program Fosters Unique Learning Environment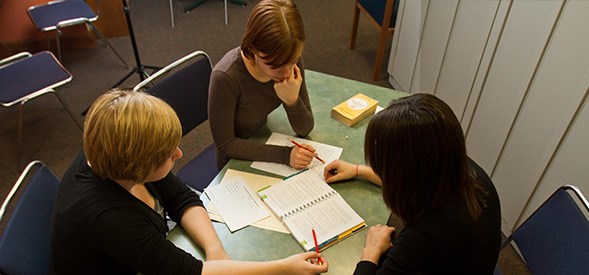 The Wittenberg community has always provided an environment in which students can grow and ignite their passion for learning and creativity, and there is a unique place where students find themselves creating every day.
The Creative Writing program, in Wittenberg's Department of English, has fostered an environment of creative openness, experimentation and acceptance since its inception in 2006, drawing in more than 28 students total.
"Tucked inside this idea of a creative writing program is the belief that being a maker of something original—and imaginative—is a vital and empowering thing, a way of understanding oneself and a way of connecting beyond oneself," said Jody Rambo, a poetry and creative writing instructor at Wittenberg.
Students in the program connect beyond themselves through the culture of student-to-student empowerment. A standout in Wittenberg's intensive writing curriculum, the minor stretches students within a nurturing environment to workshop together, provide feedback to each other, and ultimately learn from each other.
"When I took my first creative writing class at Wittenberg I quickly felt comfortable sharing my ideas and taking risks with my writing, said Adrienne Stout '14, an English major and creative writing minor, from Owatonna, Minn. "I've been lucky to experience the department alongside talented classmates who have inspired me to grow as a writer."
And while creative writing may elicit visions of fantasy novels or ambiguous poetry—both of which are indeed present— the growth that students experience and the skills that they gain are ones that translate into any area of life.
Alumni Success
The department boasts alumni who have gone on to become writers, publishers, editors, and literary managers, among other things, but even those who don't look for careers in writing gain valuable skills for the professional world.
Alumnus Tom Haushalter, class of 2002, pursued his MFA at Columbia University and has a career in book publishing, where he does marketing and publicity for a number of publishing companies. He also leads poetry workshops for an Aging Resource Center at a hospital in his area.
"In this teaching capacity, it is as if I have come full circle from my days at Wittenberg, which is both the kindest reward and the best way of saying thanks, of passing a little of that light back to where I found it," Haushalter said.
Alumna Melissa Barrett, class of 2005, is a poet and teacher in Columbus. She recently won the 2013 Gold Standard Teaching Award from Excellent Schools Network. Barrett boasts of the great professors and opportunities that the creative writing program gave her to create not only a fruitful professional life, but also a flourishing personal life.
"My professors are people that have gone beyond the call of duty of merely providing me with feedback on my writing, Barrett said. "They've introduced me to great books, they've traveled with me, they've broken bread with me. These people have shaped not just my identity as a writer, but also my identity as a person trying to lead a happy, creative and fulfilling life."
The minor has helped Stout, who graduates in the Spring, develop a mature appreciation for the world around her, and these benefits offer a reassuring glimpse into the possibilities for life after graduation.
"On a daily basis, I will look at the world as an abundance of potential—for images, for moments, for relationships," Stout said.
According to Rambo, the ability to create, fail and succeed will always be skills that students need upon their commencement into the real world no matter what path they choose to pursue, and the Creative Writing program can serve as a preparation to live well.
"To graduate having made something, whatever it may be, from the ground up, building, shaping, deconstructing, reconstructing, sweating it out—seems invaluable for the road ahead."
- Written by Megan Conkle '14
Publish Date:
Friday, February 28, 2014