Hands-On Learning At Its Best

Students in Sarah Fortner's classes know how to get their feet wet – and fast. Since joining the Wittenberg faculty in January 2012, Fortner, assistant professor of geology & environmental science, has wasted no time in helping students see the human impact on the environment right here in Springfield using a powerful combination of hands-on learning and digital media to bring inquiry-based teaching to life.
About the Project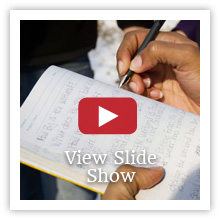 Fortner's own expertise in applied biochemistry, especially biogeochemical interactions at the earth's surface, have students understanding firsthand how humans modify natural landscapes to support population growth.
"Small-scale investigations are key to understanding important biogeochemical processes," Fortner said. "Local and regional studies reveal processes that have global implications."
Toward that end, Fortner's Geology 170 classes are exploring "the critical zone," at Springfield's Municipal Stadium Wetlands, which were created by a 1937 levee failure.  The zone "encompasses the lowermost groundwater to the atmosphere that meets the earth. Exchanges between the geosphere, hydrosphere, biosphere and atmosphere are critical to the sustenance of life," notes the blog the students started in August 2012. To learn more about the critical zone, click here.
Related Links