2011-12 Wittenberg Saturday Science Program Continues Jan. 28
Published Jan. 9, 2012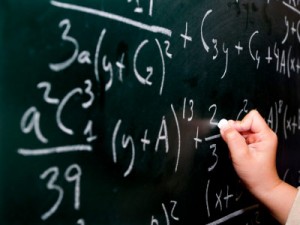 Springfield, Ohio – The 2011-12 Wittenberg Saturday Science program continues at 10 a.m. Saturday, Jan. 28, in the Barbara Deer Kuss Science Center with a presentation titled "Reading Your Mind – With Math" by Associate Professor of Mathematics Adam Parker.
Wittenberg Saturday Science is an outreach program started in January 2009 that exposes area high school and home-schooled students to science and its many possibilities. A wide range of academic departments are collaborating on the program, which is scheduled to run once a month during the school year.
While the format sometimes varies, programs normally feature a public presentation by a Wittenberg faculty member on an accessible science topic, likely something outside the typical high school curriculum. On Jan. 28, Parker will discuss results from geometry, number theory and probability to make predictions that will appear as if he's reading participants' minds.
After a continental breakfast in the David L. Hobson Atrium, students then take part in a science experience led by current Wittenberg students and their professors. Parker and a group of students currently studying mathematics at Wittenberg will leads participants as they discover some of these mathematical "tricks" – discovering that they aren't really tricks at all, but mathematical theorems.
A Wittenberg faculty member since 2005, Parker teaches a wide variety of courses in mathematics. His thesis and main research interests lie in algebraic geometry, specifically the moduli space of stable maps, in addition to topology, mathematics history of the last century, undergraduate research and curriculum development.
Parker holds undergraduate degrees in mathematics and psychology from the University of Michigan and a Ph.D. in mathematics, specializing in algebraic geometry, from the University of Texas. He was honored in 2008 by the Southwestern Ohio Council of Higher Education (SOCHE) with an Excellence in Teaching Award and by Wittenberg University with the 2008 Omicron Delta Kappa Award for outstanding teaching by a professor who has been on the faculty five years or less.
Wittenberg Saturday Science is funded by a grant from the Transformational Investment Funds, set aside by the university's Board of Directors.
There is no cost to participate in Wittenberg Saturday Science, and the public is welcome to attend the lecture portion. However, space is limited for the hands-on experience. To register for the event, go to http://www.wittenberg.edu/science-outreach. For more information, emails can be sent to science-outreach@wittenberg.edu.
Written By: Ryan Maurer