National Cancer Research Leader To Speak At Wittenberg Jan. 23
Published Jan. 19, 2012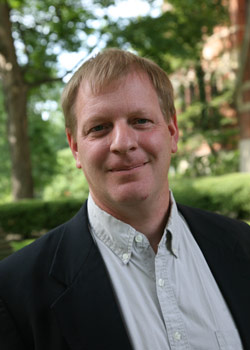 Springfield, Ohio – The Wittenberg University Department of Mathematics and Computer Science will welcome Eric Stahlberg, Ph.D., director of the National Cancer Institute CCR Bioinformatics Core SAIC-Frederick/NCI-Frederick, at its Math Monday Colloquium semester kick-off event at 4:10 p.m. Monday, Jan. 23, in Bayley Auditorium, Barbara Deer Kuss Science Center.
Director of Wittenberg's interdisciplinary computational science (COSC) program from early 2008 until late 2010, Stahlberg's talk will focus on interdisciplinary efforts and opportunities in cancer research.
"Cancer research is truly an interdisciplinary effort that challenges each discipline to reach new heights as more is learned about a truly complex disease," Stahlberg said in his abstract. "With the array of techniques needed and employed in the study of cancer and pursuit of new therapies, challenges and opportunities exist for nearly every discipline including bioinformatics, statistics, computer science, modeling, parallel computing, software development, chemistry, biology, biochemistry and physics to name a few."
Stahlberg's presentation will provide a perspective of cancer research underway at the National Cancer Institute Center for Cancer Research with connections to real opportunities in many disciplines.
Refreshments will be available outside Bayley at 3:55 p.m.
Written By: Phyllis Eberts
Photo By: Erin Pence