Wittenberg's Innovative "Women In Music" Concert Series Concludes March 16
Published March 1, 2012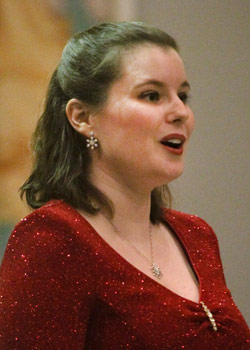 Springfield, Ohio – The Wittenberg University Department of Music presents the final concert of its 2011-2012 "Women in Music" series at 7:30 p.m. Friday, March 16, in historic Weaver Chapel. The event is free and open to the public.
Performers include Professor of Music Dan Kazez, cello; Assistant Professor of Music Jessica McCormack, soprano; Adjunct Professor of Music Stephen Siek, piano; Accompanist Diane Slagle, piano; Adjunct Instructor of Music Richard York, clarinet; the Wittenberg Flute Choir and the Wittenberg Singers.
Repertoire featured in the program will span from the Baroque period to present day. All of the works are by female composers, including "A Gaelic Offering" by Catherine McMichael, performed by the Wittenberg Flute Choir, Lori Akins, director; "Quien es ese Pajarito?" by Ruth Dwyer, performed by the Wittenberg Singers, directed by Associate Professor of Music Adam Con, and "If I" by Lori Laitman, performed by McCormack, accompanied by Slagle.
The concert series, organized by McCormack to complement her Women in Music course (MUSI 205), began in September. In addition to student and faculty artists, the series featured guest artists from Ohio, Michigan and Texas. McCormack has been contacted by musicians from across the country who expressed interest in participating in the series during future seasons.
McCormack has premiered works by Stella terHart and Marilyn Shrude, and has been coached by prolific art song composer Lori Laitman. In addition to championing new works by female composers, McCormack has also published, performed and presented on the compositions of 19th-century mezzo-soprano Pauline Viardot.
In response to her work on Women in Music, McCormack has received an invitation from the editor of the International Alliance for Women in Music to submit an essay for their forthcoming spring journal.
Support for the series has been provided by the Departments of History, Music and Psychology, and the Women's Studies Program.
Written By: Phyllis Eberts