Wittenberg And Fellow NCAC Schools Earn National Diversity Award
Published Jan. 18, 2013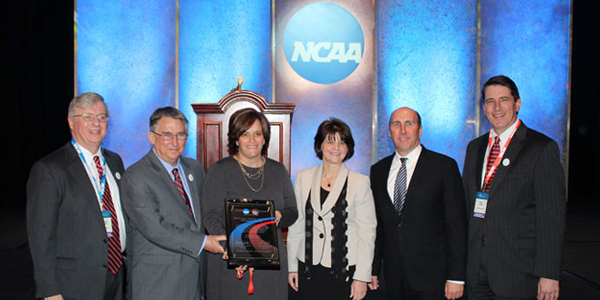 Springfield, Ohio – In recognition of the collective efforts of its member institutions to make diversity and inclusion a priority, the North Coast Athletic Conference (NCAC) Presidents' Council, including Wittenberg University President Laurie Joyner, has been presented with the inaugural Award for Diversity and Inclusion from the National Collegiate Athletic Association (NCAA) and the Minority Opportunities Athletic Association (MOAA).
Joyner was on hand to receive the award with other members of the NCAC Presidents' Council and NCAC Executive Director Keri Alexander Luchowski at the NCAA Convention Association Luncheon on Thursday, Jan. 17, in Grapevine, Texas. The NCAA announced the award in a statement on Dec. 18, 2012, with Executive Vice President and Chief Inclusion Officer Bernard Franklin stating "the NCAC Presidents' Council has done a phenomenal job introducing strategic and thoughtful practices and programs that not only encourage diversity and inclusion, but also ensure that a variety of voices and perspectives will be heard within its member schools and conference."
Diversity and inclusion have been a focus for the NCAC since its founding in 1984. In 2008, the conference introduced the Branch Rickey Initiative to establish recruitment practices to expand the pool of potential job candidates from underrepresented populations. The program included a symposium with athletics administrators and their direct reports addressing hiring practices and a sub-committee focused on developing programs to attract diverse populations to intercollegiate athletics.
In 2012, the NCAC launched the Branch Rickey Mentor Program, designed as a professional shadowing experience that matches veteran NCAC athletics administrators and coaches with female and minority students who aspire to careers in collegiate athletics. The conference officially kicked off the mentor program in September 2012 with an event at Oberlin College that featured presentations by Franklin and United States women's soccer Olympic gold medalist Kristine (Lilly) Heavey.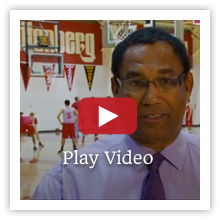 The NCAC's Diversity Committee is responsible for the implementation of the Branch Rickey Initiative. Wittenberg Director of Athletics and Recreation Garnett Purnell is one of the committee's eight standing members.
Branch Rickey is a 1904 graduate of NCAC member institution Ohio Wesleyan. A 1967 inductee into the Professional Baseball Hall of Fame, Rickey is widely recognized as one of the most important executives in the Major League Baseball history, credited with inventing the modern farm system, pioneering the utilization of statistics and, most famously in 1945, breaking baseball's color line by signing the legendary Jackie Robinson to a contract with the Brooklyn Dodgers.
The NCAA and MOAA created the Award for Diversity and Inclusion to recognize and celebrate the initiatives, policies and practices of member colleges and universities, athletics departments and/or athletics conferences that embrace diversity and inclusion. The award honors diversity and inclusion initiatives in community service, professional development, hiring practices and/or programming activities. After the NCAA and MOAA solicited nominations, a selection committee of individuals from MOAA, NCAA Committee on Women's Athletics and NCAA Minority Opportunities and Interests Committee chose the winner.
MOAA, administered by the National Association of Collegiate Directors of Athletics, promotes equitable employment opportunities for minorities in the athletics industry and promotes a sports environment that supports the values necessary to accept aspiring professionals from all walks of life.
Wittenberg joined the NCAC in 1989. Current conference membership also includes Allegheny College, Denison University, DePauw University, Hiram College, Kenyon College, Oberlin College, Ohio Wesleyan University, Wabash College and The College of Wooster.
Written By: Ryan Maurer