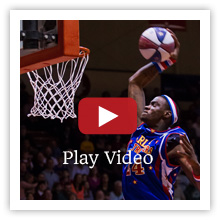 Springfield, Ohio — When a couple of Wittenberg University alumni had a discussion about raising money for their alma mater's tennis program, the discussion veered to basketball and plans to host an unprecedented exhibition game on campus.
What at first seemed like an unlikely connection turned out to be a winning scenario for the university, the men's and women's tennis programs, and the Springfield community. Bill Barrett, class of 1967 and a senior vice president for the Harlem Globetrotters, worked with Wendell Lutz, class of 1966 and a member of Wittenberg's Board of Directors, to bring the famed Globetrotters to Springfield for a show on Jan. 29 in Pam Evans Smith Arena.
The Globetrotters have been entertaining crowds since 1927, playing more than 20,000 exhibition games, but they had never brought their unique combination of showmanship and basketball brilliance to Springfield. That all changed thanks to Barrett and Lutz, both of whom were varsity men's tennis players during their collegiate career, and Wittenberg Director of Athletics and Recreation Garnett Purnell, who worked tirelessly to promote the event, which attracted a crowd of more than 2,200 fans.
A portion of the ticket sale proceeds will go to maintain Wittenberg University's David B. & Georgiana Albright Tennis Complex. The courts were resurfaced in August 2012 thanks to donations by Lutz and another former Tiger tennis standout, Mike Senich, class of 1972 and also a member of the Board of Directors. They also worked together to secure financial commitments from other Wittenberg tennis alumni.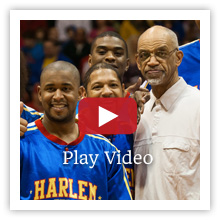 In addition, a portion of the concession sales proceeds will be used to pay for the tennis teams' annual Spring Break trip to Hilton Head, SC. Current student-athletes worked in the concession stand and performed other duties throughout the evening.
Wittenberg's connection to the Globetrotters doesn't end with Barrett, and the large crowd assembled was treated to the opportunity to salute one of its own at halftime of the game as Tony Wilcox, class of 1960, was recognized at mid-court. A member of the Globetrotters for four years after completing his Wittenberg Athletics Hall of Honor career, Wilcox was warmly greeted by current members of the team before posing for photos.
The show was captured on film by University Photographer Erin Pence and on video by members of the Integrated Media Corps (IMC), an internship program that offers students the chance to hone a variety of skills in communications, public relations and multimedia. Kristi Burkitt, class of 2013 from Hilliard, Ohio, recorded footage from the show and created a highlight video, while Tyson Agler, class of 2014 from Napoleon, Ohio, and Charidy Murphy, class of 2013 from Springfield, Ohio, recorded interviews, including one with Wilcox.
Written By: Ryan Maurer
Photos by: Erin Pence