Wittenberg Students Revive Campus Marketing Association
Published Feb. 5, 2013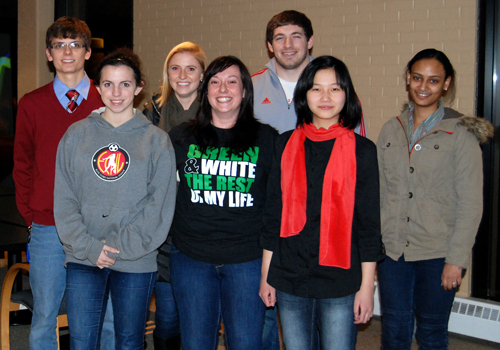 Founding members of the Wittenberg American Marketing Association are (front, from left) Shannon Inglis '15, Regina Gasser '14 and Miro Nguyen '15; (back row, from left) Mike Southard '16, Chloe Toppman '14, Tyler Visagie '14 and Hannan Shehebo '14.
Springfield, Ohio – One of Wittenberg's most successful student organizations is making a comeback thanks to several ambitious business students who have revived the Wittenberg American Marketing Association (WAMA).
The students working to revitalize the organization hope WAMA provides students with opportunities to advance their careers, including marketing training provided by the American Marketing Association (AMA). The activities and projects planned by WAMA members will foster scientific study and research in the field of marketing, develop sound thinking in marketing theory and improve methods of marketing techniques.
"WAMA is a bridge between college and the real world for students of many different majors and interests related to marketing," said Miro Nguyen, class of 2015 from Hanoi, Viet Nam, the founder and newly elected president of the organization. "It has been a big help for students on campus in the past but died out in the mid-90s. Wittenberg's chapter was so successful that in the 1970s the AMA sent a speaker to campus free of charge knowing that the club would garner a large audience."
The founders of the new WAMA hope to provide opportunities for members to get involved and improve their knowledge, and they plan to raise their own funds while providing services to other campus organizations.
WAMA will host its first event, a campus-wide networking skills workshop, at 11:20 a.m. Thursday, Feb. 7, in the Alumni Room in the Benham-Pence Student Center. Wittenberg Director of Career Services Wendy Smiseck will be on hand to discuss 30-second introductions, proper handshakes and other topics to help students make the best possible first impression.
The chapter also hopes to attend an international marketing conference hosted by the AMA and participate in a national marketing competition. In addition, WAMA leaders are planning to invite alumni back to campus for a dinner event.
"I believe WAMA will add to the long list of reasons why a student chooses to come to Wittenberg University," Nguyen said. "My hope for WAMA is to not only provide members with marketing skills and to help other clubs advertise effectively, but also to advertise Wittenberg as a dream school nationwide by gaining recognition from AMA."
Student Senate has approved the organization, which meets at 7 p.m. every other Monday in the Alumni Room. Membership in the organization is open to all students, regardless of major or future career aspirations.
Written By: Trevor Grandy '13
Photo By: Kate Causbie '14