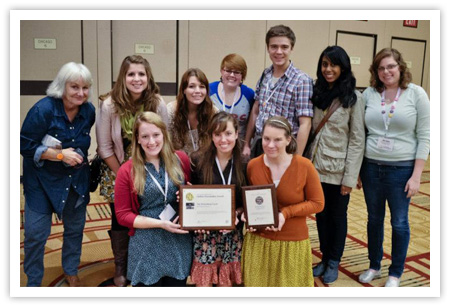 Wittenberg University's student-run newspaper The Torch has informed and entertained while providing an important training ground for future professionals since 1873. That tradition continues today with a re-designed print publication and a website that recently was chosen for a prestigious national award.
Just one year after The Torch's website was re-launched in 2011, students and faculty members involved with the weekly publication were recognized nationally with an Associated Collegiate Press (ACP) Online Pacemaker Award at an awards ceremony in Chicago in October 2012. The Torch was one of 55 publications to receive the award from among 270 entries, in recognition of excellence for online content distribution at a school with an enrollment of 5,000 or less.
The Torch is published online and in print once a week with a staff comprised exclusively of students, typically utilizing the skills of up to 25 writers, editors, designers, photographers and editorial board members. The Torch is advised by Associate Professor of English D'Arcy Fallon.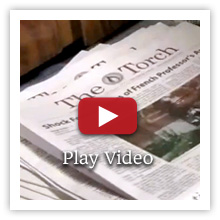 In keeping with Wittenberg University's liberal arts tradition, there is no major or minor requirement to be a member of the staff of The Torch, which results in the merging of many disciplines and fields of knowledge in every issue. Students of junior status who work on the paper can receive internship credit, which allows them to begin working towards a career goal in the journalism, editing or management.
​Along with the online and print versions, The Torch is making greater use of social media, including active Twitter and Facebook pages that have been used to cover important campus issues.
The Torch's editorial board currently consists of Editor-in-Chief Katie Mauch, class of 2014, Managing Editor Kate Causbie, class of 2014, and Sports Editor Dan Sabol, class of 2014.
Written/Video By: Megan Conkle '14
Publish Date:
Tuesday, February 12, 2013