Wittenberg Celebrates Women's History Month With Range Of Events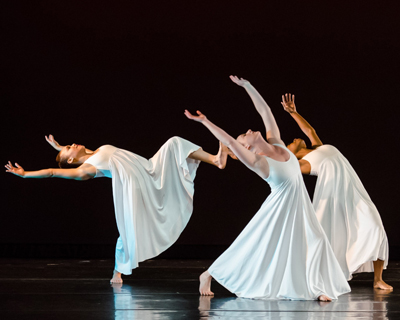 Springfield, Ohio — Wittenberg University's Women's Studies Program will host three events in the span of four days in honor of Women's History Month, culminating with a program titled Women in the Arts, featuring performances by campus choral groups and the apprenticeship ensemble of the award-winning Dayton Contemporary Dance Company (known as DCDC2), at 3 p.m. Saturday, March 23, in Weaver Chapel.
The first event is an Empowerment Dance Workshop that will take place at 10:20 a.m. Wednesday, March 20, in Recitation Hall Chapel. DCDC Resident Choreographer Chrystal Michelle will lead a discussion of the creative research processes that were used to construct her contemporary dance work For Common Threads. Literary works by female writers will also be discussed, and participants will be taught movement from the original work and encouraged to develop choreographic creations.
On Friday, March 21, the annual Tea with the Feminists event will take place at 4:15 p.m. in the Womyn's Center. This year's theme is Relational Violence & Media, and it will feature a workshop led by Assistant Professor of Communication Sheryl Cunningham.
During the Women in the Arts event, DCDC2 will perform For Common Threads, in addition to performances by the Wittenberg Singers, Wittenberg Flute Choir and the student group Women in Power, which will perform excerpts of the Vagina Monologues. For Common Threads premiered in 2009 on DCDC2's Rendering 1968 spring dance concert at the University of Dayton Kennedy Union Boll Theatre. It reflects how the historical women's movement brought about important changes in society.
Founded by Jeraldyne Blunden, a native of Dayton, Ohio, DCDC is a contemporary dance troupe that has enlightened audiences worldwide since 1968. DCDC has made it a goal to enrich as diverse an audience as possible with a blend of both classic and new works, which has garnered national attention and acclaim. DCDC has the largest collection of classic works from African American choreographers in the world.
As the company's popularity has grown, so has its repertoire. In recent years, DCDC commissioned new works by Bill T. Jones, Doug Varone, Jawole Willa Jo Zollar, Bebe Miller, Dwight Rhoden and Ronald K. Brown. The company performed at Wittenberg in October 2007 as part of the annual Wittenberg Series.
Written By: Ryan Maurer
019-13