Wittenberg School Of Community Education Offers Range Of Summer Classes, New May Term
Published March 20, 2013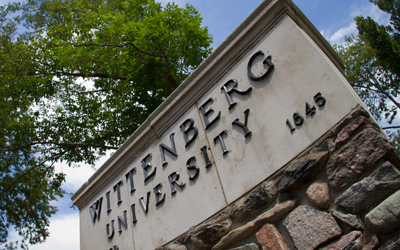 Springfield, Ohio — Each year, more than 400 students enroll in summer classes through Wittenberg University's School of Community Education. This year, students have more options than ever, including a new three-week May Term.
"The May Term represents the biggest innovation in Wittenberg's summer offerings in a generation," said School of Community Education Dean Thomas Taylor. "These intensive classes open new opportunities for students and faculty alike."
Registration begins in April for the 2013 Summer Session, which offers multiple terms of classes, running from May 13 through Aug. 2.
Credit loads for the summer terms range from one hour to 18, with a wide range of courses available, including field studies in distant places, independent study opportunities, directed research projects, internships and traditional campus instruction. Summer classes generally provide a more intimate learning environment, with the average class size of 10, and classes are offered both during the day and at night.
For more information, contact School of Community Education Dean Thomas Taylor at (937) 327-7012 or (800) 677-7558, or via email at sce@wittenberg.edu. Complete information can be found online at: http://www4.wittenberg.edu/administration/school_of_community_education/....
Written By: Ryan Maurer
Photo By: Erin Pence
020-13