Wittenberg Professor Emeritus To Celebrate National Poetry Month On April 20
Published Apr. 4, 2013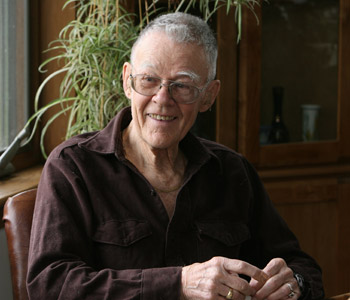 Springfield, Ohio – April is National Poetry Month, and those in the Miami Valley who love to read, write and listen to poetry are invited for the fourth straight year to celebrate with Conrad Balliet, Wittenberg University professor emeritus of English. Balliet will be joined by local poets at 2 p.m. Saturday, April 20, in the Main Library Auditorium of the Dayton Metro Library, 215 E. Third St.
The program, which is scheduled to run two hours, is offered free of charge. It is open to the public.
During his tenure at Wittenberg from 1961 to 1992, Balliet taught courses on Victorian literature and Irish writers, focusing on Yeats and Joyce. In 2013, Balliet celebrates 20 years as the host of a radio show, Conrad's Corner, on WYSO 91.3-FM, which is broadcast at 7:59 p.m. Sunday through Friday each week. Balliet is also a regular on the WYSO show Weekend Edition Sunday, which can be heard at 10:30 a.m. each week.
The WYSO website quotes Balliet as saying he taught "English and Anglo-Irish literature at Wittenberg, and he would read and recite poetry whenever possible, and encourage people to share his appreciation and love of meter and rhyme." Balliet also has published a memoir titled cb: Remembrances.
During the program, Balliet will talk briefly about poetry, WYSO and local poets. There will be a sign-up sheet available before the program begins, and Balliet will then host the readings of the poets heard on WYSO and others who have signed up. Balliet will follow a three-minute limit again this year to provide the opportunity for all who would like to participate. For more information, call the Dayton Metro Library at 937-463-2665.
Written By: Ryan Maurer