Distinguished Alumnus William A. McClain Earns Wittenberg Medal Of Honor During 2013 Honors Convocation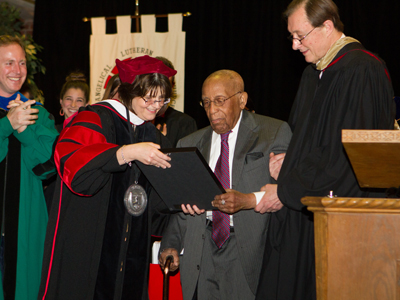 University President Laurie Joyner (left) and Board of Directors Chairman David Boyle (right) present The Hon. William A. McClain with the Wittenberg Medal of Honor.
Springfield, Ohio – As part of its annual celebration of academic excellence, Wittenberg presented the university's highest non-academic award, the Wittenberg Medal of Honor, to The Hon. William A. McClain, class of 1934, during the 2013 Honors Convocation on Friday, April 12, in Weaver Chapel.
The Honors Convocation annually celebrates academic and co-curricular achievements of students and faculty members, who mark the occasion in full academic regalia. McClain is one of the most accomplished alumni in Wittenberg's 167-year history after a career in the field of law that spanned more than six decades.
After he was denied membership twice, McClain became the first African American member of the Cincinnati Bar Association in 1951. He went on to become the first African American attorney to serve as city solicitor of a major American city when he served the citizens of Cincinnati from 1963-72, and McClain later became the first African American judge of the Hamilton County Common Pleas Court.
McClain has been awarded the Ellis Island Medal of Honor, been inducted into the Ohio Foundation of Independent Colleges' Hall of Excellence, and earned the International Municipal Lawyers Association Charles S. Rhyne Lifetime Achievement in Municipal Law Award. He also received an Army Commendation Award for distinguished service as a first lieutenant with the Judge Advocate General, and Wittenberg dedicated "The William A. McClain Culture House" in his honor in 2004.
McClain has called the latter a "crowning moment" in his life. He was recognized again in 2012 when the facility was re-dedicated as the William A. McClain Center for Diversity, which now houses the offices of the American International Association, Concerned Black Students and the Gay/Straight Alliance.
The only African American student in Wittenberg's class of 1934, McClain was the first African American to win the state and national Intercollegiate Oratorical Associations' contests. Three years after earning his bachelor of arts degree from Wittenberg, McClain earned his law degree from the University of Michigan.
Written By: Ryan Maurer
Photo By: Erin Pence