Wittenberg Hosts Annual Faculty And Seniors Dance Concert
Published Apr. 23, 2013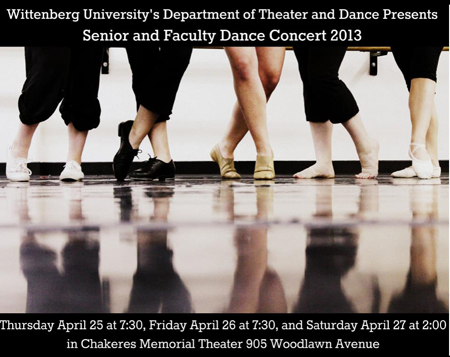 Springfield, Ohio – For seniors at Wittenberg University interested in artistic expression through dance, the Faculty and Seniors Dance Concert provides a final moment in the campus spotlight. The show is scheduled for 7:30 p.m. Thursday and Friday, April 25–26, and 2 p.m. Saturday, April 27, in Chakeres Memorial Theatre.
The five seniors participating are Jacquie Alexander from Eastampton, NJ, Sara Horsley from Wilmington, Ohio, Katherine Kiedaisch from Chagrin Falls, Ohio, Aly Michaud from Westlake, Ohio, and Katharine Ritzi from Beavercreek, Ohio. Tickets are free to the public and available at the door. Attendees are encouraged to arrive early to ensure seating.
Kiedaisch said that the concert is a final bow for graduating seniors.
"This spring the seniors worked together with our faculty to plan, organize, advertise and create this show," she said. "The department helps in the fall, but the entire production for this concert is put together by the seniors and faculty."
The concert features the seniors in various areas of dance, including modern, pointe ballet, hip-hop, large group, lyrical and contemporary. The dances have been choreographed and will be performed by the seniors and faculty.
Alexander said she has multiple roles in the concert. "I choreographed three pieces for the concert, each one holding special meaning to me," she said. "I have a large group piece, which is significant to our school's motto; a duet, which is about my sister and me; and a smaller lyrical piece, which mimics our paths we take in life. Along with choreographing these three pieces, I am dancing in four pieces."
Wittenberg's dance program has played a large part in the lives of these seniors during their four years as undergraduate students.
Michaud said the department taught her the art of dancing. "Wittenberg actually taught me how to dance – before coming here I was a gymnast for 16 years, so dance was new," she said. "The amazing people in the department taught me everything I know!"
Kiedaisch echoed the sentiment.
"The Wittenberg Theater and Dance Department has provided me with the unique and amazing opportunity to find myself," she said. "I cannot think of another time I am more free than when I am dancing. Without dance as an integral part of my college experience, I don't know how I would have been able to express myself and all that I stand for in a better way.
"Unlike any other artistic medium, dance is unique in the fact that the art medium IS the artist. Each time a dance is performed, new emotion is created and expressed. Dance concert sells out every time for a reason; people enjoy and respect it!"
Written By: Megan Conkle '14