Wittenberg Class of 2013 Plans Annual Baccalaureate Service May 10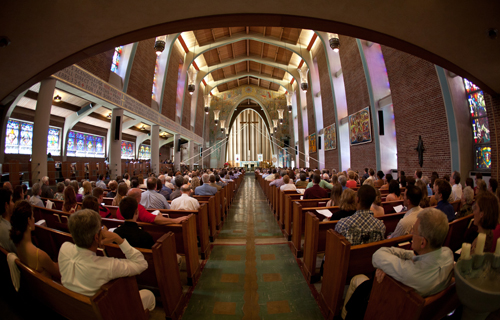 Springfield, Ohio – As Wittenberg University makes final preparations for its 168th Commencement exercises on Saturday, May 11, the graduating Class of 2013 will observe its Baccalaureate service at 2:15 p.m. Friday, May 10, in Weaver Chapel, with pre-service music starting at 2 p.m.
Planned in the Christian tradition, Matevia Endowed University Pastor Rachel Tune has coordinated the service with volunteers from the senior class, who have written prayers, selected scriptures, and will share music and reflections.
In planning the event, organizers reflected upon God's blessings in good times and even in difficult or challenging times. They expressed gratitude for the opportunities they received at Wittenberg, for their excellent teachers and mentors, for their parents who helped make it possible, for their supportive friends, and most of all to God for guidance and grace through their four years.
One of the scripture passages selected sums up the message organizers hope the service will convey. Phillipians 4: 6-7 NIV reads, "Do not be anxious about anything, but in every situation, by prayer and petition, with thanksgiving, present your requests to God. And the peace of God, which transcends all understanding, will guard your hearts and your minds in Christ Jesus."
Speakers during the 2013 Baccalaureate service will reflect back on the last four years and look ahead to the future with these words in mind. Elyse Cooke will speak about gratitude learned from community service, both locally and globally, and the perspective it provides. Hillary Hassink will speak about the role of faith, family and friends in facing difficulties. Eric Werner will speak about the overall Wittenberg experience.
An annual tradition includes lighting a memorial candle in honor of loved ones who cannot be at graduation and in memory of loved ones who have died.  It will be introduced by Elizabeth Guyer and Kylee Butler.
The planning committee also selects the beneficiaries of the offering at the Baccalaureate service, introduced by Abby Debner, Sarah Reilly and Corie Cappalucci. The offerings will be shared by three charities which have been significant for members of this year's class: 4 Paws for Ability, Habitat for Humanity El Salvador/Partners in Faith and BLOOM Africa.
Jessica Batanian, Eva Cahill, Chris Jarvis and Stephanie Davis will offer prayers. Readers include Brett Whisler, Caleb Murray, Chaunta Banks, Sarah Skidmore and Kim Replogle. Pastor Tune will deliver the homily.
Special music during the service will include Wittenberg's a cappella musical groups Just Eve and Wittmen Crew, in addition to selections by senior members of the Wittenberg Choir and Wittenberg Singers. Pre-service music will be provided by Wes Schmid-Broome, Colin Payton, Caity Valley, Kali Almdale and James Bass. Professor of Music Emerita and University Organist Trudy Faber will serve as the organist for the service.
Written By: Ryan Maurer