Wittenberg Named Among Nation's Best By The Princeton Review
Wittenberg Named Among Nation's Best By The Princeton Review
Published Aug. 8, 2013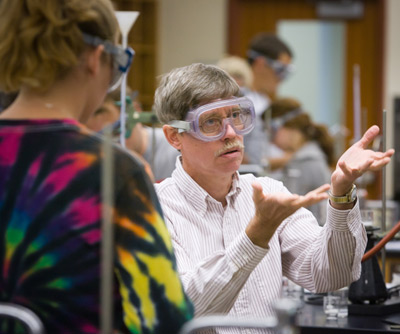 Springfield, Ohio – Wittenberg University has once again earned high marks from The Princeton Review in its 2014 edition of its annual college guide, The Best 378 Colleges.
For the second year in a row, Wittenberg has earned a spot in a top 20 listing titled "Most Accessible Professors." The education services company even saw fit to move Wittenberg up to the No. 4 position in the category, writing that "this small community of students and faculty in Springfield, Ohio, emphasizes personal attention and development of the person as a whole."
Wittenberg is in elite company considering that only about 15 percent of America's 2,500 four-year colleges are profiled in The Princeton Review's flagship publication. The college guide includes detailed profiles of the colleges with rating scores for all schools in eight categories, plus ranking lists of top 20 schools in 62 categories, based on The Princeton Review's surveys of students attending the colleges.
In its profile on Wittenberg, The Princeton Review writes that "almost every Wittenberg student speaks glowingly of their professors, for both their teaching abilities and their caring nature." Wittenberg students surveyed for the book are quoted directly, including one who says that the professors "do a great job of creating a dialogue in the classroom with students and between students that extends beyond the classroom."
A different student commented that Wittenberg professors "treat us more like peers instead of people younger than they are," while another said faculty members "are always willing to meet up and discuss anything that is on our minds."
The lists are entirely based on The Princeton Review's survey of 122,000 students (about 324 per campus on average) attending the colleges in the book and not on The Princeton Review's opinion of the schools. The 80-question survey asks students to rate their own schools on several topics and report on their campus experiences at them.
A nationally ranked university for the liberal arts and sciences affiliated with the Evangelical Lutheran Church in America, Wittenberg University previously ranked 11th in the nation for "Best Classroom Experience" and 15th in the category "Professors Get High Marks" in the 2011 edition of the same Princeton Review-sponsored guide. A year ago, Wittenberg ranked 14th in the category of "Most Accessible Professors."
Wittenberg has had more Ohio Professor of the Year recipients than any other four-year institution in the state, and The Chronicle of Higher Education named Wittenberg one of the nation's top producers of Fulbright Scholars among bachelor degree-granting institutions in 2010. The university has also been recognized nationally for excellence in service and athletics.
Written By: Ryan Maurer