Hagen Center Plans Annual New Student Service Plunge Event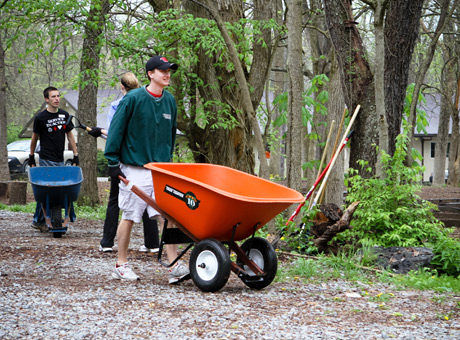 Wittenberg students will once again be spread throughout Springfield to serve the community on Saturday, Aug. 24.
Springfield, Ohio – Community service is an important component of every Wittenberg University student's educational experience. To introduce the students of the Class of 2017 to the possibilities and opportunities of Wittenberg's unique community service graduation requirement, the Susan Hirt Hagen Center for Civic and Urban Engagement has scheduled its sixth annual New Student Service Plunge for Saturday, Aug. 24.
Students from the Class of 2017, Wittenberg faculty and staff, and student coordinators from the Community Service Program will work at service locations throughout the Springfield community from 10 a.m.-noon. Breakfast will be provided in the Center Dining Room of the Benham-Pence Student Center prior to a send-off that includes an address from Professor of Religion and Director of Urban Studies Warren Copeland, who also serves as Springfield's mayor.
The inaugural New Student Service Plunge in 2008 was a huge success with more than 90 students, faculty and staff members participating, and the momentum continued through 2012, when more than 100 individuals participated in the event. Non-profit organizations throughout the Springfield community have partnered with the Hagen Center again in 2013, including Warder Literacy Center, Oesterlen Services for Youth, Rocking Horse Community Health Center, Promise Neighborhood, Habitat for Humanity, Interfaith Hospitality Network, ECO Sports Corridor and the Springfield Museum of Art. Participants will work on construction, painting, landscaping and cleaning projects.
"Having an opportunity to serve in the local community in the first days of their collegiate career allows new students to understand how important community service is to a Wittenberg education," said Director of Community Service Kristen Collier, Wittenberg class of 1992.
To register, Wittenberg students, faculty and staff can log on to https://wittenbergcommunityservice.wufoo.com/forms/new-student-service-p... and click on New Student Service Plunge or call the office at (937) 327-7523. Space is limited, so those interested are encouraged to reserve their spot as soon as possible.