Playwright Caryl Phillips To Present Wittenberg Series Koppenhaver Literary Lecture Sept. 26
Published Sept. 13, 2013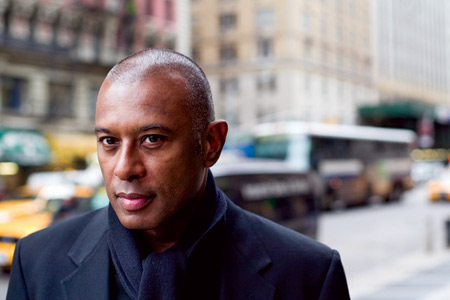 Springfield, Ohio — The 2013-14 Wittenberg Series continues at 7:30 p.m. Thursday, Sept. 26, with the Dr. Allen J. Koppenhaver Literary Lecture, featuring a reading titled "The Anxieties of Migration" by playwright and author Caryl Phillips in Bayley Auditorium in the Barbara Deer Kuss Science Center.
Like all Wittenberg Series events, the Dr. Allen J. Koppenhaver Literary Lecture is free and open to the public.
Phillips is the author of 14 books, beginning with The Final Passage in 1985. His most recent book, titled Colour Me English, was written in 2011. Phillips also is the editor of two anthologies: Extravagant Strangers: A Literature of Belonging (1997) and The Right Set: An Anthology of Writing on Tennis (1999).
Phillips has been the recipient of numerous awards and honors during his illustrious career. His literary awards include the Martin Luther King Memorial Prize, a Guggenheim Fellowship, a British Council Fellowship, a Lannan Foundation Fellowship, and Britain's oldest literary award, the James Tait Black Memorial Prize for Crossing the River, which was also shortlisted for the 1993 Booker Prize.
The winner of the 2004 Commonwealth Writer's Prize and the 2006 PEN/Beyond the Margins Award, Phillips is a fellow of the Royal Society of Literature. He is currently a professor of English at Yale University.
In addition to his presentation, Phillips will participate in an English Department Colloquium at 4 p.m. in Ness Family Auditorium in Hollenbeck Hall.
Now in its 31st year, the Wittenberg Series brings distinguished lecturers and performing artists of national and international prominence to the Wittenberg campus and Springfield community. To make special arrangements, reserve a Series poster, or become a friend of the Wittenberg Series, contact Jeannine Fox at 937-206-3539 or via email at jfox@wittenberg.edu.
Written By: Megan Conkle '14