Wittenberg Series Welcomes Historian Eric Foner To Present William A. Kinnison Endowed Lecture Nov. 14
Published Nov. 8, 2013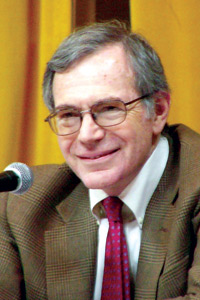 Springfield, Ohio – The 2013-14 Wittenberg Series presents the William A. Kinnison Endowed Lecture, featuring Historian Eric Foner, the DeWitt Clinton professor of history at Columbia University, at 7:30 p.m. Thursday, Nov. 14, in Bayley Auditorium in the Barbara Deer Kuss Science Center.
Foner is a nationally recognized expert in the Civil War, reconstruction, slavery and 19th century America. He will make a presentation titled "The Emancipation of Abraham Lincoln" at the evening event after presenting a colloquium at 2 p.m. in Ness Auditorium in Hollenbeck Hall.
Foner is an award-winning author of such books as Free Soil, Free Labor, Free Men: The Ideology of the Republican Party Before the Civil War (1970), Reconstruction: America's Unfinished Revolution 1863-1877 (1988), The Story of American Freedom (1998), and other works that have been translated into multiple languages. His most recent work, The Fiery Trial: Abraham Lincoln and American Slavery (2010), earned a Pulitzer Prize for History, the Bancroft Prize and the Lincoln Prize.
In addition, Foner has served as president of the Organization of American Historians, the American Historical Association and the Society of American Historians. He has also been a curator of two prize-winning museum exhibitions: A House Divided: America in the Age of Lincoln and America's Reconstruction: People and Politics after the Civil War.
His expertise in American history was acknowledged by the New York Council for the Humanities as Scholar of the Year in 1995, and his teaching skills earned Foner the Great Teacher Award from the Society of Columbia Graduates in 1991. He also earned the Presidential Award for Outstanding Teaching from Columbia University in 2006.
After earning his bachelor's degree from Columbia in 1963, Foner attended Oriel College at Oxford University, where he received an additional bachelor's degree. He returned to Columbia to earn his Ph.D. in 1969. Prior to teaching at his alma mater, Foner served as a professor at the City University of New York, Princeton and the University of Cambridge.
The William A. Kinnison Endowed Lecture in History was established under the auspices of the Board of Directors of Wittenberg University with the assistance of numerous benefactors to honor Kinnison, the university's president from 1974-95, on the occasion of his retirement.
In its 31st year, the Wittenberg Series continues to bring distinguished lecturers and performing artists of national and international prominence to the Wittenberg campus and Springfield community. To make special arrangements, reserve a Series poster, or become a friend of the Wittenberg Series, call 937-206-3539 or send an email to jfox@wittenberg.edu.
Written By: Jenny Klose '15