Wittenberg University Hosts 32nd Annual Community Messiah Sing
Published Nov. 27, 2013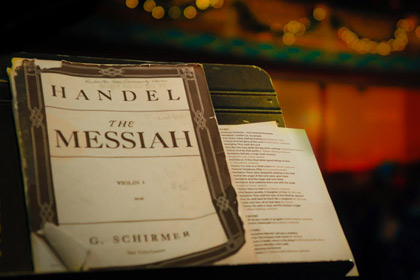 Springfield, Ohio – Wittenberg University will host the 32nd annual Community Sing of George Friedrich Handel's Messiah at 7:30 p.m. Monday, Dec. 9, in Weaver Chapel. The concert, in which the audience is the chorus, is sponsored by Wittenberg's Department of Music and the Ruth B. and Thomas F. Mackey Charitable Trust.
Soloists for the performance include April Bennett, soprano, Rachael Boezi, mezzo-soprano, Jason Hiester, tenor, and Adjunct Instructor of Music Basil Fett, baritone. Instrumentalists include Springfield Symphony Orchestra members David Smarelli and Lesa DeBorde, violin, Pat King, viola, and Joseph Mueller, cello. Professor Emerita of Music Trudy Faber will accompany by playing the organ and harpsichord, and Basil Fett will conduct.
This year, the Community Sing will showcase the Shawnee High School Choir under the direction of Lydia Smith-Lockwood and the Wittenberg Choir and Wittenberg Singers under the direction of Assistant Professor of Music Jimmy Shepherd, accompanied by Adjunct Instructor of Music and University Organist David Crean.
All who enjoy singing are invited to bring their scores and join in singing Handel's choruses. Scores will also be available at the door for loan or purchase.
Admission is free. Free will donations will be collected. For more information, call Wittenberg's Department of Music at 937-327-7341.
Written By: Ryan Maurer