Ensuring Excellence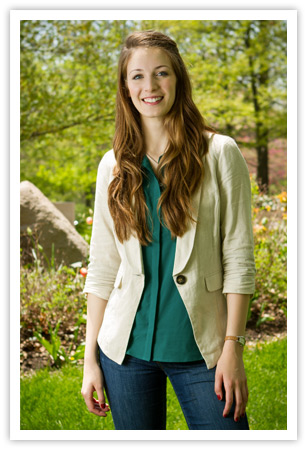 For over 160 years, students and alumni have found their light at Wittenberg – the meaning and purpose that comes with a Lutheran education, which encourages engaged learning, compassion and service.
Wittenberg University puts its students' success at the forefront of its mission. Through meaningful experiences and active and engaged classrooms, students here embrace their educational experience in a way that changes them forever.
Wittenberg, My Home
For graduating senior Shelly Gregory, from Marysville, Ohio, Wittenberg provides more than she ever imagined. For her, it is a home where she has found the meaning and purpose that so many strive to achieve.
"Wittenberg is my home and is a place that I will always cherish.

My experiences at Wittenberg have shaped me into a young adult with leadership experience, self-confidence and a positive outlook.

As president of Student Senate and the former general manager of WUSO 89.1, I have learned through my involvement the significance of people.

Wittenberg is a community of learners where we all rely on one another as friends and mentors, not just for four years, but for life.

This is why I want to thank the generous Wittenberg alumni for their support. Their contributions to Wittenberg are vital and make Wittenberg a better place for everyone.

In fact, if it weren't for alumni support in the form of scholarships, I wouldn't be at Wittenberg.

I am forever grateful for the alumni who have provided such valuable support to me over the past four years, and I look forward to my opportunity to give back to Wittenberg as an alumna after I graduate in May."
Related Links: