Out Of This World
If Kimberly Lykens '14 can't inspire an inner-city high school student to love science and pursue the liberal arts, chances are slim that anyone else can. 
Teaching is in her blood. Her mom taught high school for 35 years, and Lykens embraced her mom's passion for education.
"Teaching offers you the opportunity to be creative in how you teach a subject," says the Columbus, Ohio, native. "I just love science and teaching, as well as working with students and young people."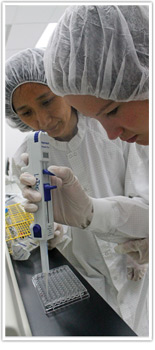 Little did Lykens know that those two interests – science and education – would converge to make Wittenberg history. A biology major and education minor, Lykens learned her sophomore year about the Robert Noyce Teacher Scholarship program. In 2011, Wittenberg became one of only two private liberal arts institutions to receive a $1 million grant from the highly competitive program funded by the National Science Foundation. The scholarship pays full tuition for upper-class students pursuing science and education with the stipulation that they teach for four years in a Title I school post graduation – two years for every one year of scholarship funding.
Once accepted into the Noyce Scholarship Program, Lykens quickly learned that she was also eligible, thanks to Wittenberg, for a prestigious summer internship at Pacific Northwest Laboratory in Richland, Wash., which she pursued in 2012.
"While there, I learned about this program called STAR, which stands for STEM [Science, Technology, Engineering, Math] Teacher and Researcher," she says. 
A nine-week summer research internship for "aspiring science and mathematics teachers" at the middle or high-school level, the program is also highly competitive, typically drawing its interns from prestigious universities. Students interested in the program have the opportunity to work in a "National Laboratory, NASA research Center, NOAA Laboratory or a private industry research setting, alongside a research mentor and [at a pay of] $500/week," according to the program's website. "Participants work full-time on a group or independent research project, and participate in weekly education workshops focused on exploring the nature of science and transferring [their] experience to the classroom."
Applying To NASA
Lykens decided to apply and checked NASA as a possible location for her internship. Four months later, she learned that she had been accepted to the program, but not just any location. Lykens landed an internship with a major NASA Research Center in Pasadena, Calif.
"I called Professor Fleisch, who encouraged my love of astronomy, and told him," she recalls. "He couldn't believe it. He told me I had to do it."
"When she told me, my jaw dropped," remembers Dan Fleisch, professor of physics. "Not only was she going to NASA, she was going to be working in the Jet Propulsion Lab. It was absolutely incredible."
Now at NASA, Lykens often still finds herself in awe, working side-by-side with top researchers in the field and with fellow interns from Harvard and Cornell, among other top-tier research institutions.
"We're selected by individual mentors, and my mentor is in the Biotechnology and Planetary Protection Group (BPPG)," Lykens explains.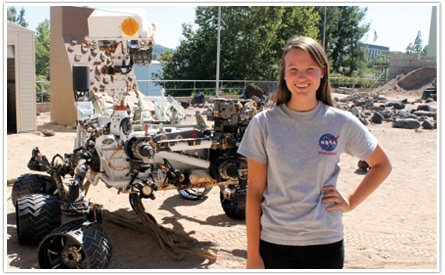 The BPPG at JPL is the NASA center for planetary protection research, and implementation of planetary protection on spaceflight projects such as Mars Exploration Rovers, Phoenix, Mars Science Laboratory and future life detection and sample return missions. The goal of planetary protection is to prevent contamination of extraterrestrial bodies with terrestrial biota, and protecting the Earth from potential threats posed by returned extraterrestrial samples.
The project she supports, along with many engineers, scientists and interns: ensure the integrity of the sample collected in a returnable cache for the Mars 2020 mission. More specifically, when the rover lands on Mars and drills down into the rock, the container used to hold the sample cannot in any way interfere with the scientifically valued composition of the sample.
"The cache might be returned to Earth after many years sitting on Mars, so we need to ensure that any potential molecular evidence of life, such as amino acids, could be preserved throughout that period of time," she says.
"It's been amazing," adds Lykens, who also receives continual professional development in the program.
"I've visited Mission Control, seen a ton of cool labs, and heard from speakers who worked on the Viking and Curiosity Missions," she says.
And the opportunities provided through STAR don't end there. Lykens can intern for up to three summers with the program and has the chance to receive funding to present her research at a top aerospace conference in Montana. Her ability to network with highly respected NASA employees also opens doors for future employment.
Student-Faculty Collaborative Research
As she evaluates the experience so far, however, she has noticed that many of her fellow interns clearly haven't had the real collaborative student-faculty research opportunities she has had at Wittenberg.
"All of my classes in biology, chemistry and astronomy really prepared me to be right there with the Ivy League interns," Lykens says. "At the same time, I have found that the research with my mentor at NASA is far more meaningful because we collaborate together, just like I have done with my professors at Wittenberg. If I hadn't had the collaborative research opportunities I've had at Wittenberg and was just memorizing straight facts that someone tells me, I wouldn't be able to create and conduct experiments in the way I am at NASA."
To show what she means even more, Lykens recalls the conversations with other interns and how they are amazed by the professor-led study sessions and student-professor research projects at Wittenberg.
"Most students only see their professors during lecture periods," Lykens says. "That doesn't happen with Wittenberg professors." 
Indeed it doesn't. In fact, the near space project that Lykens participated in this past spring with Fleisch's astronomy class helped her understand how NASA actually works. The project continues to impress her colleagues out west, as well.
"Dr. Fleisch kept connecting our near space project to NASA as he broke us into teams and assigned each team a specific part of the project," Lykens says. "Because of my participation in that project right before I went to Pasadena, my experience at NASA has been so much more rewarding as it gave my work more purpose and meaning." 
Her NASA experience also continues to make her love the liberal arts even more, which she is inspiring others to consider.
"Being out here, no one knows Wittenberg really well or the liberal arts. I'm changing that."
Related Links