University Communications Staff Directory
Rotating Image Carousel (optional):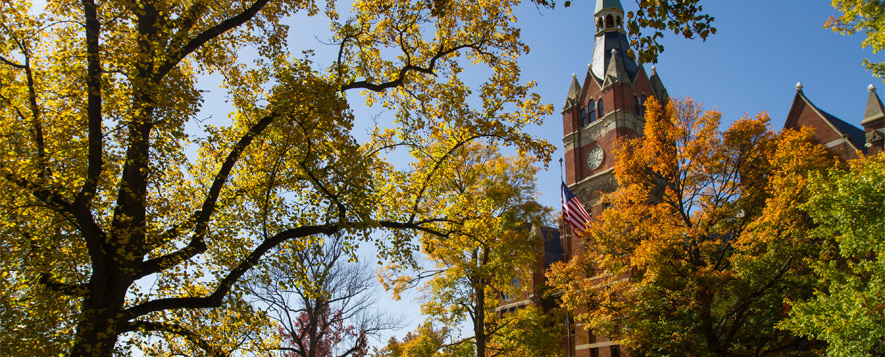 Karen Gerboth
Executive Director of University Communications
Editor, Wittenberg Magazine
Karen manages the offices of publications, public relations, news services, sports information and new media. She also edits Wittenberg's 34,000-circulation alumni magazine and serves as university editor. In addition, she develops, writes and edits a variety of advancement- and admission-related publications.
Following her graduation from Wittenberg in 1993, Karen went on to earn her master's degree from the University of Missouri School of Journalism in 1998. A native of New Jersey, Karen lives in Springfield with her husband, John, a fellow 1993 graduate of Wittenberg, and their three daughters.

Ryan Maurer
Director of Athletics Communication
Ryan is responsible for generating and effectively writing Wittenberg-related news and information. Ryan also directs and oversees the university's sports information operation, including all athletics department news, publicity and promotional efforts. He was recognized in 2007 and 2008 by the American Volleyball Coaches Association as the Great Lakes Region recipient of the Grant Burger Award.
A 1994 graduate of Miami University, Ryan holds a B.A. in English Literature/Journalism, as well as a master's degree in education/sports management from Cleveland State University. He lives in Springfield with his wife, Heather, and their sons, Joshua and Justin.

Erin Pence
University Photographer
Erin, a photojournalist and fine art photographer, is responsible for the university's photographic needs. In addition to covering various campus events, Erin maintains the university's digital photo archive and assists with the development of new media projects.
A graduate of Wittenberg, Erin earned her B.A. in communication in 2004. She joined the University Communications staff in Fall of 2008.

John Strawn
Associate Director of Athletics Communication
John oversees athletics publications, including game programs, media guides and recruiting materials, and handles many of the day-to-day functions of the sports information office.
A 2007 graduate of Wittenberg, John earned a B.S. in biology with a minor in music. He was named Sports Information Assistant at Wittenberg in 2007-08, before spending a year at the University of Louisiana at Lafayette as a graduate assistant in sports information while studying public relations. John rejoined the Wittenberg staff in 2009 and currently resides in Springfield.

Seth Iiames
Director of Communications and Online Content
Seth provides oversight of web content development at every level, and serves as the primary contact point for all web-related needs for admission, advancement, academic departments and co-curricular programs, as well as the School of Community Education. He also provides training and support to individual content contributors across campus.
Seth graduated from Bowling Green State University in 2008 with a B.S. in Education and a minor in journalism. He resides in Troy, Ohio with his wife Jennifer.  Seth joined the staff at Wittenberg in 2012.

Leigh Hall
University Communications Intern
Voice: 937-327-6118
E-mail: s13.ehastings@wittenberg.edu