President's Leadership Academy - July 20-25, 2014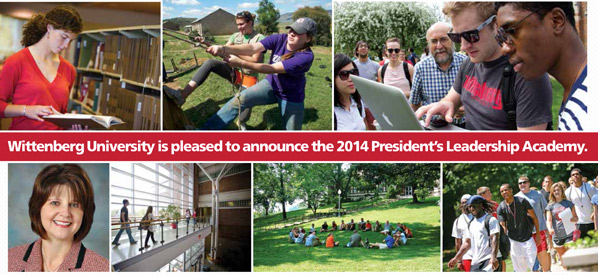 PRESIDENT'S LEADERSHIP ACADEMY BLOG
Follow along all week as Wittenberg's inaugural President's Leadership Academy takes place!  Updates posted daily!
          SUNDAY JULY 20, 2014: Move-In!
The 2014 Presidents Leadership Academy kicked off today with 16 participants hailing from 5 states! We welcomed junior and senior high school students from a wide range of backgrounds each bringing their unique personalities, experiences, and goals to the academy. Their involvement includes athletic teams, church groups, community and civic engagement groups, student organizations and service groups. Dr. Joyner welcomed the inaugural academy participants and gave them a sneak peak of what her course will be like throughout the week.  As a welcome to Wittenberg and Springfield, the group got to try some of Wittenberg student's favorite food spots in town for dinner—Bada Bing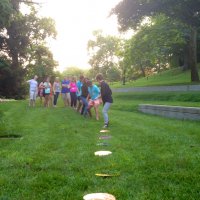 Pizza and Scheuler's Bakery!
The group then ventured to Commencement Hollow to get to know one another more as well as explore different types of teambuilding exercises.  The biggest challenge for the group was getting all 16 participants across the "lava" to the other side.  Communication, trial-and-error, and creative ingenuity were key parts of this activity.
The final activity of the night was a campus-wide scavenger hunt exploring essential Wittenberg landmarks and buildings.
As the sun sets on another Springfield summer night, the students prepare for an exciting week ahead!
MONDAY JULY 21, 2014
Day 2: "All education is self education"
We started the day with a workshop led by Wittenberg president Laurie Joyner. She gave meaning to the word "leadership" 
Students and Dr. Joyner  got to know each other further by playing "Fact or Fiction", in which they tell the group two true statements about themselves and one false statement. The group then decides which of the statements they believe is false. Some funny examples were
"I was published in the New York Times
I'm an Olympic skier
I am related to a famous author" (he was not an Olympic skier)
President Joyner shared with the group her educational and professional background and turning points throughout her life- can you believe she almost worked for the IRS?!
After hearing the leadership journey of the University President, students wrote down their personal and professional aspirations: School choice, major, profession, graduate school choice, and dream position. Students then volunteered their choices for group discussion. Students' questions were answered and discussed and they left the session feeling more comfortable with their personal journey and the road ahead.
The President had 8 takeaways from this morning's session:
1. Embrace opportunities and challenges
2. Stretch yourself-Don't be afraid to step outside your comfort zone
3. Work ethic and positive attitude
4. Slow and steady wins the race
5. Outcomes and performance matters
6. Mentoring is critical and needs to be reciprocal
7. Lifelong learning and development are essential 
8. Privilege = great responsibility aka lifelong service
The session was followed by reflection and discussion and then… lunch!!
This afternoon's session focused on leadership identity and servant leadership. Cliff Saul, an Area Coordinator, led discussion and activities focused on the two topics. The first was understanding Servant Leadership.  This involved reflection on the following questions:  As a servant leader, where do I have room to grow? Am I willing to invest the time to change? What are my barriers? Will I hold myself accountable to make changes? How will I practice my new ways?
Students were then given a color identity leadership assessment. The four main color identities are blue, gold, green, and orange. Once the students got their colors, they split up and defined what their color means to them and their leadership style.
After recognizing and discussing each color, groups were jumbled up in an attempt to build the tallest tower only using uncooked spaghetti, string, tape, and a marshmallow. Teams had to use each other's unique leadership strengths in order to construct the highest tower. A lot of laughs and jokes ensued.
Executive Director of Admissions, Karen Hunt, talked to the students about the college decision process. As students are being bombarded with mail, emails, and phone calls from colleges, how are they suppose to know what to look for? Students broke down the main factors that influence their college decision. They left the session feeling confident in how to successfully select which school would be right for them! (many excited to get their application ready for Wittenberg!)
Then finally….DINNER!
This evening the group gathered in Founders, our campus pub, for down time. Current Wittenberg student leaders came and discussed their personal experiences with leadership as well as how Wittenberg has allowed them to develop and grow.  

Afterwards, the group unwound by playing games and hanging out in the hall!  Students can't wait to see what Day 3 brings!
Information about the academy:
Designed for high school students entering grades 11 and 12, the President's Leadership Academy will explore leadership through every lens while helping to provide skills to stand out in the college admission and scholarship process.
Leading your peers in some capacity? Serving your church or community? Leading in student government? Heading up a student organization? Want to understand the college admission process?
Then this is the program for you.
For an entire week, Wittenberg University will provide you with cutting-edge leadership development skills to take your efforts in bold, new directions. Courses, workshops, and hands-on experiences will help you learn how to lead with confidence, understand the role of servant leadership, and develop the critical expertise necessary for success.
Each day, participants will spend time learning the ins-and-outs of college admission processes as well as tools to writing admission essays and conveying leadership opportunities as a way to stand out during admission and scholarship decisions. 
Wittenberg's own president, Laurie M. Joyner, is hosting the Academy and will also share her insight on what leadership means in a special course during the week. The President's Leadership Academy is a one-of-a-kind immersion experience that builds on Wittenberg's tradition of academic excellence, service, and leadership development.
You will learn to:
Identify your own leadership style.
Manage controversy with civility.
Understand servant leadership.
Integrate mission, purpose, and civic responsibility into
your efforts.
Lead your groups through strategic goal-setting and
planning exercises.
Find mentors and networks.
Upon finishing the program, you will receive a Wittenberg Certificate of Completion. The University will also work to publicize your efforts at your school and in your hometown news outlets.
As an added bonus, the program will offer all participants a $1,000 scholarship should they apply and be admitted Wittenberg, as well as insight into managing the college admission process. If you take the skills you learn and actually implement a program that has a positive impact on at your school, church, or community, and are admitted to Wittenberg, you will be eligible to apply for the $80,000 President's Leadership Scholarship ($20,000 per year for four years at Wittenberg).