President's Leadership Academy - July 20-25, 2014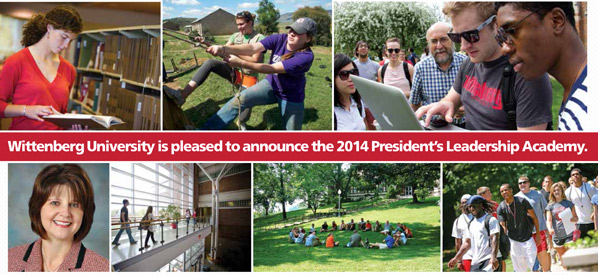 PRESIDENT'S LEADERSHIP ACADEMY BLOG
Follow along all week as Wittenberg's inaugural President's Leadership Academy takes place!  Updates posted daily!
          SUNDAY JULY 20, 2014: Move-In!
The 2014 Presidents Leadership Academy kicked off today with 16 participants hailing from 5 states! We welcomed junior and senior high school students from a wide range of backgrounds each bringing their unique personalities, experiences, and goals to the academy. Their involvement includes athletic teams, church groups, community and civic engagement groups, student organizations and service groups. Dr. Joyner welcomed the inaugural academy participants and gave them a sneak peak of what her course will be like throughout the week.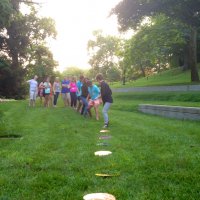 As a welcome to Wittenberg and Springfield, the group got to try some of Wittenberg student's favorite food spots in town for dinner—Bada BingPizza and Scheuler's Bakery!
The group then ventured to Commencement Hollow to get to know one another more as well as explore different types of teambuilding exercises.  The biggest challenge for the group was getting all 16 participants across the "lava" to the other side.  Communication, trial-and-error, and creative ingenuity were key parts of this activity.
The final activity of the night was a campus-wide scavenger hunt exploring essential Wittenberg landmarks and buildings.
As the sun sets on another Springfield summer night, the students prepare for an exciting week ahead!
---
MONDAY JULY 21, 2014
Day 2: "All education is self education"
We started the day with a workshop led by Wittenberg president Laurie Joyner. She gave meaning to the word "leadership", a word that is used frequently but varies in definition.
Dr. Joyner and the students got to know each other further by playing "Fact or Fiction", in which they tell the group two true statements about themselves and one false statement. The group then decides which of the statements they believe is false. Some funny examples were:
"I was published in the New York Times
I'm an Olympic skier
I am related to a famous author" (he was not an Olympic skier)
President Joyner shared with the group her educational and professional background and turning points throughout her life- can you believe she almost worked for the IRS?!
After hearing the leadership journey of the University President, students wrote down their personal and professional aspirations: School choice, major, profession, graduate school choice, and dream position. Students then volunteered their choices for group discussion. Students' questions were answered and discussed and they left the session feeling more comfortable with their personal journey and the road ahead.
The President had 8 takeaways from this morning's session:
1. Embrace opportunities and challenges
2. Stretch yourself-Don't be afraid to step outside your comfort zone
3. Work ethic and positive attitude
4. Slow and steady wins the race
5. Outcomes and performance matters
6. Mentoring is critical and needs to be reciprocal
7. Lifelong learning and development are essential 
8. Privilege = great responsibility aka lifelong service
The session was followed by reflection and discussion and then… lunch!!
This afternoon's session focused on leadership identity and servant leadership. Cliff Saul, an Area Coordinator, led discussion and activities focused on the two topics. The first was understanding Servant Leadership.  This involved reflection on the following questions:  As a servant leader, where do I have room to grow? Am I willing to invest the time to change? What are my barriers? Will I hold myself accountable to make changes? How will I practice my new ways?
Students were then given a color identity leadership assessment. The four main color identities are blue, gold, green, and orange. Once the students got their colors, they split up and defined what their color means to them and their leadership style.
After recognizing and discussing each color, groups were jumbled up in an attempt to build the tallest tower only using uncooked spaghetti, string, tape, and a marshmallow. Teams had to use each other's unique leadership strengths in order to construct the highest tower. A lot of laughs and jokes ensued.
Executive Director of Admissions, Karen Hunt, talked to the students about the college decision process. As students are being bombarded with mail, emails, and phone calls from colleges, how are they suppose to know what to look for? Students broke down the main factors that influence their college decision. They left the session feeling confident in how to successfully select which school would be right for them! (many excited to get their application ready for Wittenberg!)
Then finally….DINNER!
This evening the group gathered in Founders, our campus pub, for down time. Current Wittenberg student leaders came and discussed their personal experiences with leadership as well as how Wittenberg has allowed them to develop and grow.  

Afterwards, the group unwound by playing games and hanging out in the hall!  Students can't wait to see what Day 3 brings!
---
TUESDAY JULY 22, 2014
Day 3: "Leadership is not what we do, it's how we live."
President Joyner opened up the morning talking about maintaining perspective in a global lens. As a country, we are so blessed to have the right to an education. We need to keep in mind the intense stratifications that take place throughout the world, and even our country, whether it be socioeconomic status, gender, race, etc. These stratifications may seem to divide us, but in actuality they make us stronger.
Dr. Joyner then took time to discuss liberal education. It can be described to be the key to success for the 21st Century, why you may ask?
-Within 10 years, many are not working in careers connected to their undergraduate major
-Individuals change jobs multiple times over their lifetime and career shifts are common
-Within 10 years, many are not working in careers connected to their undergraduate major
-Individuals change jobs multiple times over their lifetime and career shifts are common
-Learning how to learn and adapt to change is critically important
-Broad exposure to the subjects (natural sciences, social sciences, humanities, arts)
-Intellectual and practical skills (Oral and written communication, teamwork, problem solving skills)
-Personal and social responsibility (Who you are/what you value as a person, your responsibilities to others)
-Integrative and applied learning (Helping students link what they learn their first semester on campus to what they learn during their last semester, disciplinary linkages
-Wittenberg combines the liberal education and faith based community. The measure of our success if who our graduates become
-Active and engaged learning environments
We learn something new about President Joyner everyday- did you know she studied homeless drug addicts on the streets of New Orleans for 5 years? It all comes full circle to the global lens that is so necessary in today's society. She says: "You're going to get smart in the classroom, but you have to use it outside of the classroom to better those around you."
During the search for colleges, students need to maintain perspective and know what to look for. President Joyner recommends looking past the generic questions (how far away from home, size, public/private, etc.) and dig deeper into the university life. Look at things like: Faculty, student success, athletic tradition, student life, alumni network, job placement, and extra-curricular activities. "One piece of advice- be authentic and be yourself," she says.
The group then discussed Heroic Leadership (Lowney 2003). In the book, the author describes certain principles that contribute to becoming a successful leader. Now, these principles don't just apply to your career or schooling; they apply to your whole life. "We're all leading, and we're leading all the time," the book states. Lowney believes that we possess four values that create leadership. These four values include:
-Self-awareness: Our strengths, weaknesses, values, world view
-Love: Positive engagement, loving attitude
-Ingenuity: Innovating, adapting, changing
-Heroism: Positive energy, heroic ambitions, "watch me"
It was a busy morning filled with reflection. Students couldn't wait for their free time and lunch!
This afternoon's leadership lab was headed by Dean of Students Casey Gill. Discussion and activities focused on collaboration, conflict, and common purpose. Students defined collaboration, compromise. They then split up into teams and worked together to design paper airplanes that would be the most similar. The exercise demonstrated their team work/group work skills.
Dean Gill then moved onto the topic of controversy with civility. Students got to watch tv!! Well, sort of... They were given a small television clip demonstrating controversy between characters and students had to describe how they would've handled the controversy themselves.
During the Admissions Bootcamp, admission counselor Laura Pitney discussed the college search process in terms of visits, essays, the application process, and interviews. She walked the group through the Common Application process and even gave them a small essay assignment! (You should've seen their faces!) Finally, the students got dinner and down time!
After dinner, the group traveled to Yellow Springs to Young's Dairy for mini-golf and ice cream! (Cotton candy is the best flavor) Young's even has a petting zoo.
To close out the day, the group went on a late night adventure! They went on another tour of campus….But this wasn't your typical tour- it was a ghost tour! Director of Alumni and Parent Engagement, Linda Beals led the group around campus talking about Wittenberg's history, tradition, and yes, ghostly tales. The night ended at the Benjamin Price house (the President's house) for late night snacks!
This group is slowly becoming closer and closer as each day passes…onto Day 4!
---
WEDNESDAY JULY 23, 2014
Day 4: "

Magis

"

This morning the group got prizes for their valiant efforts in mini-golf! Once prizes were distributed, the group dove right into the morning's leadership seminar. The group watched a movie, Jiro Dreams of Sushi. The movie follows 89-year-old Jiro Ono, a restaurant owner who is on a quest to perfect the art of sushi making. He and his two sons own and operate a small sushi place in Tokyo, Japan. The meaning of the movie went way deeper than the delicious food he produces. Discussion followed the movie that centered on the movie's themes like leadership, humility, drive, and passion. The group discussed the theme of the word magis, a Latin word that means always striving to better yourself and those around you. It was only fitting that we brought in some sushi for a pre-lunch surprise!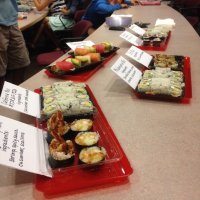 Associate Dean Jon Duraj led the Leadership Lab this afternoon with a focus on Communication, Marketing, and Promotion. The group distinguished the difference between marketing products and services. They also explored the purpose of their organizations and how to communicate those purposes.
For the first time this week, the group had a few hours of free time! (They should be working on that essay assignment that's due Thursday) They can choose to relax, go to the fitness center, go swimming, frolf (frisbee golf), or hang out around campus, as long as they remember to grab some dinner!
To close out another day, the group packed into vans and headed to the Champion City Kings game. The Champ City Kings are Springfield's Prospect League baseball team. As soon as the group was about to go onto the field for an introduction- it started pouring! Sadly, the game got canceled. Plan B consisted of a movie night in the student center with free range of the games room! We even ordered some late night pizza.
Some of the favorite parts of the week so far have been:
Caroline O: "Meeting new friends!! We have a lot more in common than I thought."
Ainsley G: "Learning about others' leadership styles and how to collaborate with them!"
---
THURSDAY JULY 25, 2014
Day 5: "Begin with the end in mind"
President Joyner began the morning tying up loose ends from throughout the week. We picked up with a discussion that was held the day before regarding leaders and the ominous question: Are leaders born or made? It was a toss up within the group. Everyone is a born a leader, it rests in the person's hands to develop those skills necessary to successfully lead.
What's the most critical things you can do to make the most of your four years at college? Theses are some of the answers that the group shouted out:
-Seeking out information
-Co-curricular/extracurricular activities
-HIPs (high impact educational practices)
-Stretch yourself, step outside of your comfort zone
-Recognizing the different environment; college is difference than high school
-Diversity
Dr. Joyner touched on the topic of mentoring and advising. Mentoring is a powerful and necessary part of professional life. From building course schedules, to discussing ambitions, your advisor is a critical exponent of the college experience. Finding an advisor that invests in you is essential to your success during your undergraduate career. What you put into it is what you're going to get out of it. What you invest in building these relationships at the undergraduate level will follow you your entire life.
The students were then given time to journal. They began planning out their 4-year Journey. This includes their goals, aspirations, or advice. The consensus for Year One is to make a successful transition into college life. Year Two, students hope to get involved and maintain their healthy habits. Year Three includes beginning preparation for life after college; whether it be a career, graduate school, internships, etc. Year Four is enjoying the time you have left. You have made a name for yourself the past three years and it's only fitting you spend your last year soaking it all in.
The Leadership Lab brought in Area Coordinator, Michelle Gafford to talk about strategic planning, goal setting, and change/transitions. They started with an activity, the 6 word memoir. How would you describe yourself in a 6-word sentence? Some examples the students came up with are:
"So many ideas. Struggling for words"
"Clicked my heels, never found home"
"Steel resolve, warm heart, soft acl"
"Struggling while juggling aspects of life"
"Excuse me, but I cant even"
"Open heart, open eyes, open mind"
"God's word. My faith. Your interpretation"
"The treasure is buried in the…"
Then the group switched directions to goal setting. They discussed SMART goals (Specific, Measurable, Attainable, Relevant, Time Based). They then took specific steps to plan out their individual SMART goals for their specific club/organization they're involved in.
Next came practicing innovation! Each group was given a "bag of stuff", which was a bag filled with a random assortment of goodies like balloons, rubber bands, strings, tape, straws. Their assignment: build something. Groups came up with an array of creations, from hot air balloon festivals, to a family of balloon people.
The Admissions Bootcamp continued with the students' essays. Their drafts were returned with feedback and advice on improvement. Then admission counselor Laura Pitney discussed financial aid and scholarship opportunities! The group asked any last questions they had regarding the admission process, and then time for dinner!
The students headed back out to Carleton Davidson stadium for the rain-checked Champion City Kings game. Today was a lot drier than yesterday thank goodness. Current Wittenberg students and the PLA students came together for a bonfire on campus, with plenty of s'mores!  Their last night on campus was filled with singing songs, dancing, and plenty of laughing.
---
FRIDAY JULY 25, 2014
Day 6: "Go forth and set the world on fire"
The last day began with a Springfield favorite, Schuler's doughnuts! I think all of the students are sugared out by now…
Reflection began with President Joyner this morning. Students brought to mind one leader in their life. Now, what makes them a leader? What characteristics do they possess? How do they impact us?
The students took to their journal to brainstorm another life map. "Begin with the end in mind". Where do you want to end up after college? What will you be doing? Who will be by your side? Students reflected on their long-term ambitions and discussed the tools necessary to achieve them.
President Joyner picked back up on the topic of mentoring. Mentoring is a two-way relationship. Different mentors will serve you in different ways. You can have an infinite network and web of mentors. Each one can differ in their purpose. For each individual mentor, you bring something different to them, and they bring something different to you.
Then, the graduation ceremony began in our very own Commencement Hollow! Some family members even made it out to the ceremony! Each student received his or her own certificate and had plenty of pictures taken (stay tuned!). We are so proud of the progress these students have made this week. They're walking away with more than the skills developed; they're walking away with lifetime friends.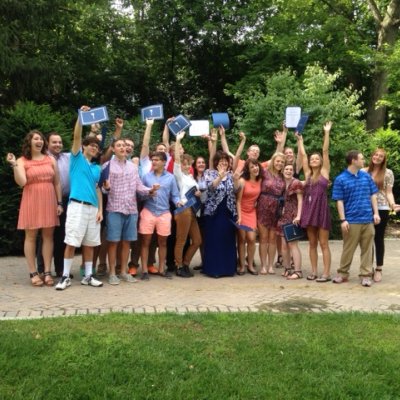 Information about the academy:
Designed for high school students entering grades 11 and 12, the President's Leadership Academy will explore leadership through every lens while helping to provide skills to stand out in the college admission and scholarship process.
Leading your peers in some capacity? Serving your church or community? Leading in student government? Heading up a student organization? Want to understand the college admission process?
Then this is the program for you.
For an entire week, Wittenberg University will provide you with cutting-edge leadership development skills to take your efforts in bold, new directions. Courses, workshops, and hands-on experiences will help you learn how to lead with confidence, understand the role of servant leadership, and develop the critical expertise necessary for success.
Each day, participants will spend time learning the ins-and-outs of college admission processes as well as tools to writing admission essays and conveying leadership opportunities as a way to stand out during admission and scholarship decisions. 
Wittenberg's own president, Laurie M. Joyner, is hosting the Academy and will also share her insight on what leadership means in a special course during the week. The President's Leadership Academy is a one-of-a-kind immersion experience that builds on Wittenberg's tradition of academic excellence, service, and leadership development.
You will learn to:
Identify your own leadership style.
Manage controversy with civility.
Understand servant leadership.
Integrate mission, purpose, and civic responsibility into
your efforts.
Lead your groups through strategic goal-setting and
planning exercises.
Find mentors and networks.
Upon finishing the program, you will receive a Wittenberg Certificate of Completion. The University will also work to publicize your efforts at your school and in your hometown news outlets.
As an added bonus, the program will offer all participants a $1,000 scholarship should they apply and be admitted Wittenberg, as well as insight into managing the college admission process. If you take the skills you learn and actually implement a program that has a positive impact on at your school, church, or community, and are admitted to Wittenberg, you will be eligible to apply for the $80,000 President's Leadership Scholarship ($20,000 per year for four years at Wittenberg).