Joyner Attends CIC President's Institute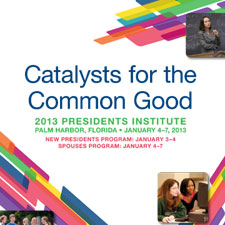 Held in Palm Harbor, Fla., the 2013 President's Institute sponsored by the Council for Independent Colleges and attended by Laurie M. Joyner, Ph.D., consisted of a two-part program, one for new presidents and then the institute itself. 
"As agents of education and civic engagement, CIC presidents exercise a strong social and moral  influence in their communities and in the nation as a whole," noted Richard Ekham, CIC president. "Their leadership advances public understanding of the role of independent colleges as catalysts for the common good."