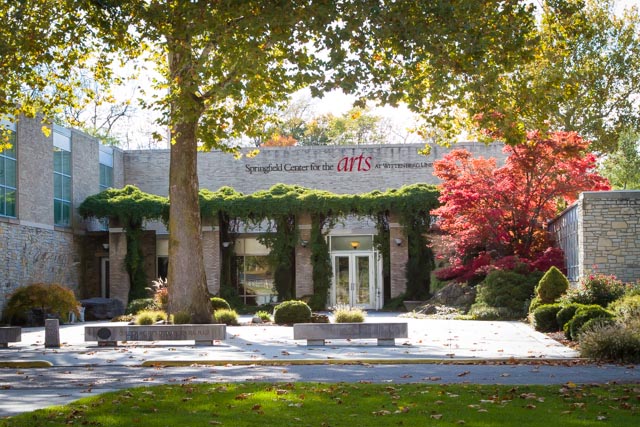 SPRINGFIELD, Ohio – The Springfield Center for the Arts at Wittenberg University, home of the Springfield Museum of Art, provides unique learning opportunities that cultivate students' skills in a professional and academic environment few schools can offer.
The recent partnership between Wittenberg and the museum, the only Smithsonian-affiliated art museum in the state of Ohio, began when the university purchased the Center for the Arts building in 2010. Today, the partnership enables Wittenberg students to engage with the arts and arts professionals beyond the classroom through highly collaborative courses, internships and fieldwork.
One such course, Art on Display, informs students about researching and curating exhibitions in a museum space. The student-faculty research completed during the semester is published in an exhibition catalog, accompanying a show in the Wittenberg Halley Gallery.
The upper-level museum studies and curatorial practicum, taught by curator and assistant professor of art Janice Glowski, allows students to work closely with a support team of arts-related professionals, including Ann Fortescue, Director of the Springfield Museum of Art; Crispin Prebys, assistant professor of art, teaching graphic design; and associate professor Suzanne Smailes, head of technical services and the librarian in charge of Special Collections at Thomas Library.
"The class is fully immersive and designed to build students' arts and museum-related professional experience in many areas," Glowski said. "Students curate artwork, learn how to handle art objects, draw up art loan agreements, learn about insurance, write object condition reports, consider necessary conservation measures, photograph objects, design and critique exhibitions, write didactic information for the public and write for an exhibition catalog."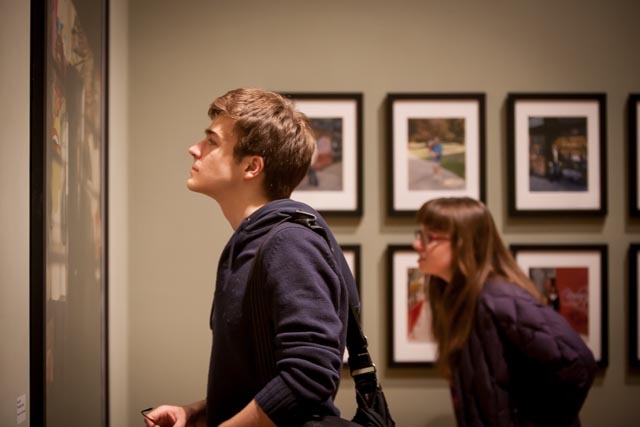 Outside of the course, students find other ways to become involved in this distinctive learning experience.  Leslie Winter, class of 2013 from Holland, Mich., studied art history and studio art and has been able to apply the professional experience she gained through an internship with the Springfield Museum of Art to her graduate program in art history at the University of Massachusetts Amherst, studying Renaissance and 19th-century art. 
"My internship at the Springfield Museum of Art allowed me to gain access to an inside view of a small, but reputable museum. I was able to interact with the people in most of the major aspects of a small museum: the director, curator, alumni relations, and security," Winter said. "The experience of guiding my own research for implementations in other areas of the museum closely mimics what I am currently doing in my internship for the Mortimer Rare Book Room at Smith College."
Whether students learn in the classroom, through internships or during art courses, Glowski finds that the Springfield Center for the Arts at Wittenberg University and the Springfield Museum of Art offer excellent opportunities for hands-on learning experiences that prepare students to become specialists.
"Through this engaged learning, students develop skills necessary for working in a range of arts professional and museum-related careers," she said.
The museum is open Wednesday through Saturday from 9 a.m. to 5 p.m. and Sundays from 12:30 to 4:30 p.m. For more information about internships, museum-related courses, and the Springfield Center for the Arts at Wittenberg, visit www.springfieldart.museum or email Scott Dooley at sdooley@wittenberg.edu.