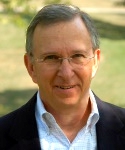 "Prof. Fenimore is my favorite because he is always willing to help students with internships, projects and classwork.  He is truly concerned for our future and is willing to help us be successful here and upon graduation."  Sara Tatman, '05
John R. Fenimore, MAcc, CPA
Assistant Professor
2011 Provost's Teaching Award
Hollenbeck Hall 218-N
(937) 327-7931
jfenimore@wittenberg.edu
Fall 2016 Office Hours:
MONDAY - 9:00 AM-10:15 AM; 3:30 PM-4:30 PM
WEDNESDAY - 9:00 AM-10:15 AM 3:30 PM-4:30 PM
FRIDAY - 9:00 AM-10:15 AM; 3:30 PM-4:30 PM
Courses Taught
WTSM 100L- Personal Financial Planning
ACCT 225   - Financial Accounting
ACCT 226   - Managerial Accounting
ACCT 325   - Intermediate Accounting I & II
ACCT 426   - Federal Taxation  
ACCT 427   - Auditing
ACCT 498   - Senior Seminar
Academic Background
B.A.       Muskingum College, 1969
M. Acc.  Bowling Green State, 1973
CPA       Ohio, 1974
Awards & Recognitions
2011 Provost's Award for Outstanding Teaching
Positions/Membership
Department Chair 2003-2006

Member of the American Institute of Certified Public Accountants and the Ohio Society of Certified  Public Accountants.
Professional Background
Prior to joining the Wittenberg faculty, Mr. Fenimore maintained a consulting practice that focused on the re-engineering of medium-sized businesses experiencing financial difficulties, and provided litigation services in the area of forensic accounting. He has 18 years of experience in the distribution industry where he served as Executive Vice-president for 15 years. Prior to working in industry, he was with the public accounting firm of Coopers & Lybrand. Mr. Fenimore became a Certified Public Accountant, 1974.
Other Interests:
Investments

Classic Movies

Classic Books
Quote
"Luck is where preparation meets opportunity." -Randy Pausch