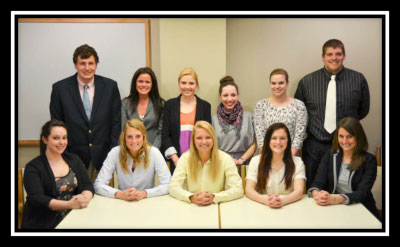 May 14, 2013
Springfield, OH--Communication and Business Leadership Experience (C.A.B.L.E.) is an educational opportunity for a select team of Wittenberg University students studying in the fields of Communication and Business. These 11 individuals were selected because of their exemplary leadership experience, potential for growth, excellent problem solving skills, and involvement in diverse campus activities. The program bridges the gap between the classroom experience and the professional world. Ventures such as case studies, business research methodology, alumni relations, project endowment and career development contribute to the rigor of this program.
The C.A.B.L.E. team started their experience in January, meeting weekly with the faculty advisors and independently for project development. The classroom component of the program helps students begin to learn some basic business and communication knowledge, such as organizational culture, effective interviewing, and entrepreneurship. The group also learned about their personality profiles and preferred work styles through the Myers-Briggs test. Additionally, they created resumes and had them critiqued by the group's advisors, Dr. Matthew J. Smith and Dr. Wendy C. Gradwohl. Regina Gasser, a current C.A.B.L.E. member, is enjoying her experience in this program. "These classroom sessions take all of the knowledge necessary for growth and development as a business professional and condense it into small but effective chunks. I leave class feeling like I am one step closer to my professional career."
All of these experiences help prepare C.A.B.L.E. students to meet professionals at various organizations beyond the university.  The group's first site visit was to Wilt, a company in Springfield, where they learned about what public relations and advertising look like when put into practice.  On their second outing the members of C.A.B.L.E. got to visit two very different but successful companies in the Columbus area: TEKsystems and Nationwide. After touring the company, they talked with business professionals in various areas of the organization, from Marketing to Finance and PR to HR, about their expertise and experiences in their chosen careers.
The C.A.B.L.E. members are not only learning what it takes to thrive in the business world, but also general skills that will help them achieve great things in life. "This program has not only prepared me to be a business professional, but also has increased my confidence overall as a Wittenberg student leader," says current member Julia Devine. Since it is a requirement of this program for members to collaborate and complete an intensive project each semester, they are gaining experience with working as a group, time management, and practical application of classroom knowledge. These skills will grow and develop over time and will continue to help them throughout their college careers and onward far into their promising futures. The first ever C.A.B.L.E. project that the group is working on is focused on creating a network of business professionals as well as raising additional funds to extend the program's capabilities and ensure its future success. If you would like to learn more about C.A.B.L.E. and its members or would like to help them reach their goal, please contact WittenbergCable@gmail.com.
By Regina Gasser '14