December 5, 2013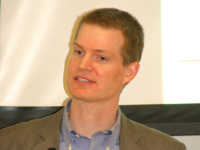 Springfield, OH—­­­­­­Tom Hill, ­­­Wittenberg business graduate and senior consultant at the Hay Group, in a keynote presentation to business majors shared the cutting edge analytics his organization has been utilizing to evaluate big name companies like Toyota, Wal-Mart, Microsoft, Unilever and more.  Hill's Executive-in-Residence presentation went into great detail about how companies like these are able to maintain such a high level of performance.  Hay Group, a global HR consulting firm working out of 48 different countries, has been compiling a list of the World's Most Admired Companies (WMACs) for more than ten years.  Working with Fortune Magazine, the Hay Group has a selective group of "raters" who use a number of different parameters to rank these companies including quality of products or services, innovativeness, financial soundness, social responsibility and quality of management.  Not surprisingly, here are some of the companies that hit the top of the list: Apple, Google, Coca-Cola, IBM, Nike and many other highly respected brand names.
But the Hay Group's real focus is to use this list to answer the question of why these companies show up at the top year after year.  Hill stressed that nearly all these companies excel in culture and leadership, strategy implementation and execution, talent attraction and retention, performance management systems and more.  He outlined all these parameters directly comparing the list of the WMACs to a peer group sample of companies that aren't at the top of the list to develop an understanding of best practices.
For example, increasing presence in emerging markets is a top priority for 79% of the WMACs while it is a top priority for only 59% of the peer group.  It was the same case for reward communications.  83% of WMACs strongly agreed with the statement, "We regularly reinforce our reward philosophy in communications with employees," while only 64% of the peer group companies agreed with the same statement.  Hill went through a number of these comparisons, all proving that a very high percentage of the WMACs put a focus on different aspects than their less admired peers.
Hill closed his formal presentation highlighting the adaptability of these top companies, and how they achieve this through focus on four main ideas: focus on priorities for growth, culture of innovation, driving performance and enabling employees to succeed.
It might be easy to overlook the success of the Hay Group itself, as most of their work is behind the scenes at some of the world's most powerful companies, but its outstanding work makes regular appearances in stories on CNN, the Wall Street Journal, the Economist and more.
Hill wrapped up his presentation with a lively Q&A, with numerous questions on topics from current HR practices to current news stories and their implications for HR policies.  Majors, who had the opportunity to speak with Hill at a reception immediately following his keynote, also had the opportunity to discuss ideas in several classes throughout the day as part of the Wittenberg Business Executive-in Residence program.
Ben Hogenkamp '14