WittConsultants Use Marketing Plan to Propose New Target Industry for Pallas Systems LLC
April 29, 2010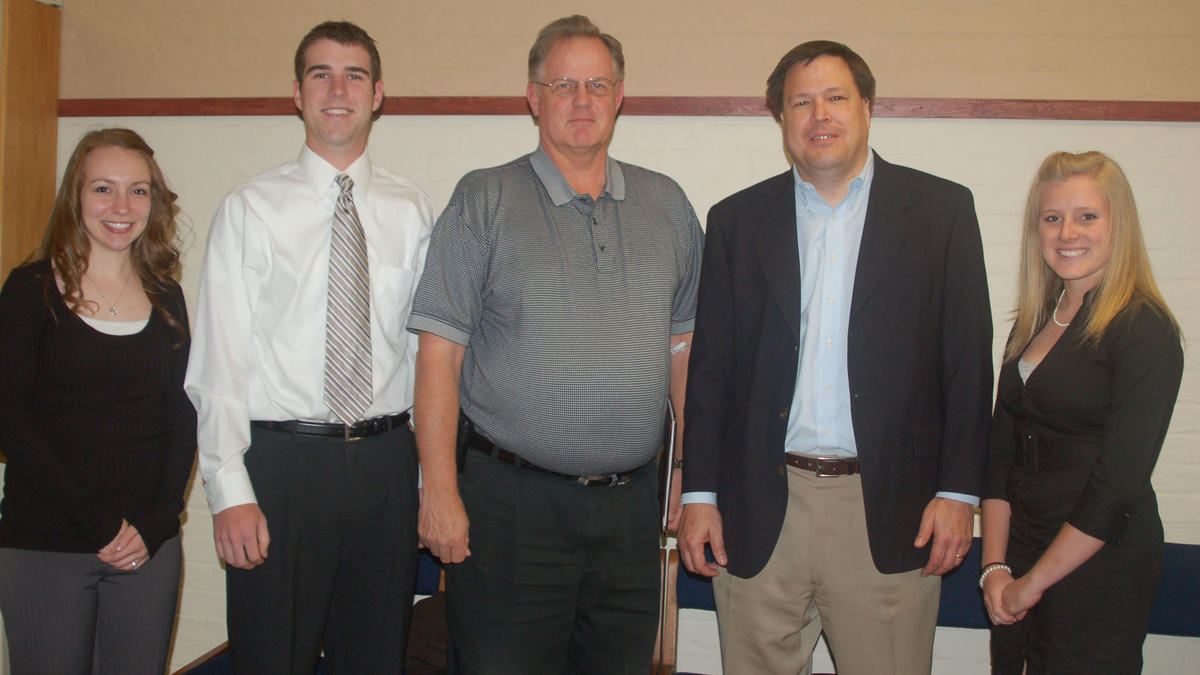 Springfield, OH- WittConsultants, Robert Ciucki, Kelly Foley, and Julianne Lininger, worked diligently over the spring semester to research potential markets for Pallas Systems LLC. Pallas currently specializes in ruggedized diagnostic test equipment for the military. Using primary research, the consultants thoroughly analyzed three plausible industries to continue growth and development for this high-technology startup company. Following their interview research, the WittConsultants developed a detailed marketing strategy for the industry that showed the greatest potential for Pallas. The team provided Pallas with a detailed marketing plan including: a summary of their research findings in a strategy canvas, a SWOT analysis, a synopsis of the strategic windows to capitalize on, plausible strategies and tactics to overcome barriers for entry, and current market snapshots.
Upon receiving the research and marketing recommendations, Pallas felt confident in pursuing the proposed industry as their next target market.
Meet your WittConsultants:
Robert Ciucki, '10, from Dublin, OH, is a senior management major with a concentration in marketing. Over the past few summers, Ciucki has gained experience working with customers as well as dealing with money in both Starbucks and Draughthaus, a bar. He has also gained valuable experience on campus in the NCAA Student Athlete Advisory Committee (SAAC) and being Phi Gamma Delta's recruitment chair. Ciucki plays baseball for Wittenberg and is a team captain for the upcoming season. He will pursue a career in advertising or marketing after graduation.
 
Kelly Foley, '11 is a junior honors student with a double major in geology and business management and a computational science minor. She is an active leader among her peers, serving as the Secretary of the class of 2011. A presidential scholar, Foley is also a two -year captain of the women's soccer team and a representative of the Student Athletic Advisory Committee. Her athletic experience has given her a perspective on team work and the personal determination needed to achieve any goal in life. Upon graduation, Foley hopes to integrate her specialized knowledge of our planet and her business sense to start a career in the geospatial industry, working with cutting edge GPS, GIS, and Remote Sensing technologies. Ultimately, she aspires to become an environmental lobbyist in Washington, D.C.
 
Julianne Lininger ,'11 is a junior management major with a minor in statistics from Springfield, Ohio. She currently serves as assistant student director of Wittenberg's Center for Applied Management (WittCAM) and as treasurer of Wittenberg's Habitat for Humanity. In addition to gaining work experience through WittCAM, Lininger also has worked in the Accounting Office at Wittenberg for three years. She is also a member of Wittenberg's Honors Program, Alpha Lambda Delta women's honor society, Tau Pi Phi Management honor society, and has been on the Dean's List each semester. Lininger is very passionate about giving back to the Springfield community and has volunteered with The Ark (a Christian after-school program) and the Clark County Habitat for Humanity's Restore. She plans to pursue a career in the business field and pursue a masters degree in business.
-End-
 
About Wittenberg Center for Applied Management (WittCAM): The Wittenberg Center for Applied Management, better known as WittCAM, offers alternative coursework to upper-level students who are focused in management and business. As an alternative to a classroom-based course, WittCAM provides students with the opportunity to serve as consultants to businesses, government agencies and not-for-profit organizations. Students and organizations have a choice of opportunities, including: Small Business Institute, Project Management Assistance, Management Internship, and the Creative Advertising Partnership. Students may work in groups or as individuals on projects. Some projects require specific management course prerequisites; these vary depending on the nature of the project. Directed by Professor Pamela Schindler, more than 465 students have been involved in WittCAM projects in the last 30 years.