February 7, 2011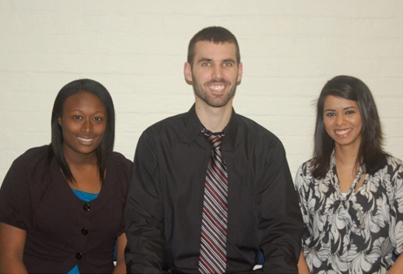 Springfield,OH—This semester, the Wittenberg Center for Applied Management is assisting a startup not for profit whose mission is to help other non-profits fight poverty.  WittConsultants Dicko Sow, Josh Mason, and Vinisha Lal will serve as the organization's board of directors for the duration of the semester.  Their task is to research similar organizations worldwide, revamp the organization's marketing program, create a three-year strategic plan, and recommend an appropriate business model.  The team plans to complete the consultation by early May.
Meet the WittConsultants
Dicko Sow '12 is a junior, majoring in business with dual minors in English and French. During the summer months following her freshman and sophomore year, she held an internship position with Merry Insurance Agency. In this position, Sow was responsible for office tasks and problem solving for clients. She volunteers at one of the largest and most successful non-profit college access programs in the country. Active in extracurricular activities, Sow participates in American International Association, an organization focused on promoting international awareness in which she served as treasurer and now serves as the president. Along with these positions of leadership, Sow has been volunteering at a Children's Rescue Center for the past two years. Sow plans on earning her MBA and aspires to own a business.
Josh Mason '11 is a senior business major from Columbus, Ohio.  Mason is active with WittInvest, managing a portion of the school's investments and is also the vice president of the Wittenberg Men's Volleyball Club.  In the fall of 2010, Mason worked with Founders Pub at Wittenberg University developing a marketing plan for the three subsequent semesters.  In college, Mason played basketball for both Otterbein College and Wittenberg University; he also competed with Otterbein's speech and debate team.  He frequently volunteers at the Nearly New Shop, a not-for-profit retail organization in Springfield whose proceeds support local programs.  His future aspirations include going to graduate school and pursuing a career in marketing or financial management.
Vinisha Lal '11 is a senior business major with a concentration in human resource management. Currently she is the vice president of the Class of 2011 and president of Wittenberg Human Resource Management Association a member of the Senate Finance Committee and Build A Better Wittenberg, and a chairperson for Senior Circle. Lal works as a student manager in the Scheduling Office where she manages a staff of more than 15 students. She is also an Internal Auditor for the accounting department where she performs audits of all faculty and staff use of university credit cards. Just recently, Lal worked as a management trainee intern at Enterprise Rent-A-Car where aside from performing daily tasks, she and a team of 2 earned a prestigious award for writing a business plan for a struggling Enterprise branch. In the past, Lal worked with a local confectionary company, The Candy Print Shop and created a business and marketing plan to help the company grow. Lal has also worked with her human resource management class to conduct the bi-annual Clark County Wage and Benefits Survey Analysis in cooperation with the Springfield Chamber of Commerce involving more than 130 local companies. After graduation, Lal plans to work in the human resource field and eventually pursue her master's degree in Human Resources.
-END-
Wittenberg Center for Applied Management (WittCAM): The Wittenberg Center for Applied Management, better known as WittCAM, offers alternative coursework to upper-level students who are focused in management. As an alternative to a classroom-based course, WittCAM provides students with the opportunity to serve as consultants to businesses, government agencies and not-for-profit organizations. Students and organizations have a choice of opportunities, including: Small Business Institute, Project Management Assistance (WittConsultants), Management Internship, and the Creative Advertising Partnership. Students usually work in groups, but may work as individuals on projects. Some projects require specific business course prerequisites; these vary depending on the nature of the project. Directed by Professor Pamela Schindler with assistance from a student director and assistant student director, more than 496 students have been involved in WittCAM projects in the last 30 years.