WittConsultants help to reimage and expand local restaurant
April 25, 2011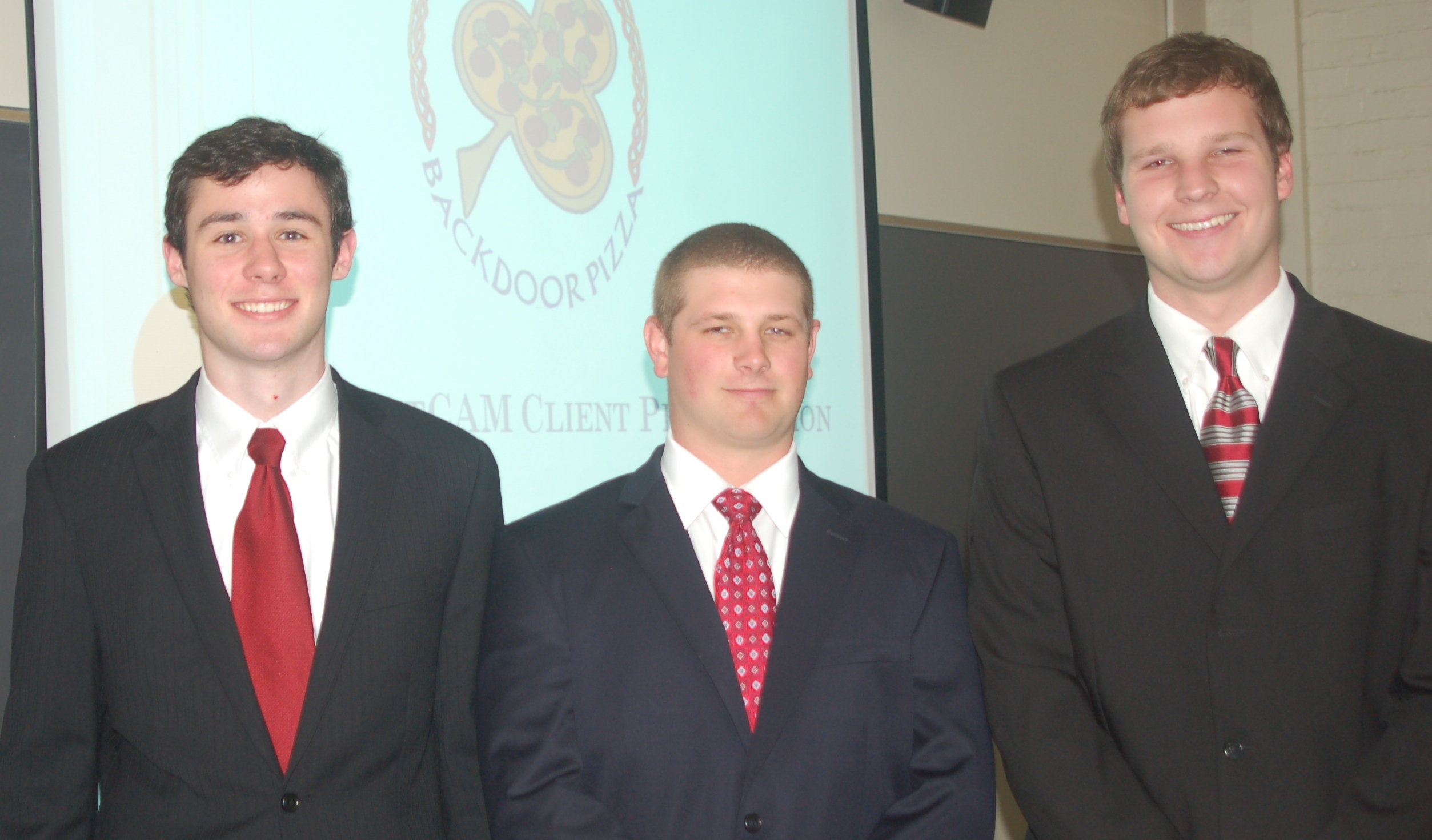 Springfield, OH— During the spring 2011 semester, Wittenberg Center for Applied Management (WittCAM) WittConsultants John Bonham, Cole Everson, and Michael Yednock were tasked with working with a new pizza restaurant.  Working with the up and coming restaurant, they have provided recommendations to reimage the establishment.  They have researched local restaurants with comparable products in order to compare applicable strategies and tactics.  In addition, they have assessed current and targeted customer attitudes and behaviors through market research and have identified the pros and cons of differentiating from its adjoining bar.  The team has presented the client relevant data from conducted surveys and competitive analyses, a thorough SWOT analysis, and gained knowledge to support their recommendations intended to increase sales and expand the restaurant's market.  They have made recommendations ranging from price and promotion tactics as well as discovered advertising avenues not yet utilized by the client. 
Meet the Consultants:
Johnathan Bonham '11, from New Albany, Ohio, is a senior majoring in business with a focus in marketing. He has worked three summers for Abercrombie & Fitch, two school years for the Wittenberg Health Center, and a semester for the Alumni Association of Wittenberg University. Bonham was a 3-year member of the Wittenberg varsity baseball team, where he actively participated with the team and engaged in volunteer instructional camps during the winter. Bonham plans a business career in marketing or advertising.
J. Cole Everson '11, from Worthington, Ohio, is a senior business major.  A member of the Tau Pi Phi business national honor society, Everson is a repeat Wittenberg Dean's List member.  Everson has taken on multiple opportunities outside of the classroom in order to both contribute to covering the cost of education and to gain a well rounded yet functional business experience and grow his business acumen.  He has worked four years for the Wittenberg Sports Medicine department while also volunteering for the Infusion Campus children's after school program.  Everson has spent summers interning with the operations department of Par-Way Tryson foodservice company in St. Louis, MO, and opening and running a branch of Student Painters, a small painting company in Columbus, OH. He plans a career in sales upon graduation in May.
Michael Yednock '11, from Worthington, Ohio, is a senior majoring in business. He has completed courses at Wittenberg focused on Marketing, Finance, Statistics and additional subjects that are very important in the business world. He was a summer varsity high school baseball head coach at Thomas Worthington High School for the past two summers, where he learned to work with others, communicate effectively, and manage his own as well as others' time on and off the field. He is a second baseman on Wittenberg's varsity baseball team, and was voted Team MVP in 2010 by his peers. Yednock plans a career in sales and coaching when he graduates in May. 
-END-
Wittenberg Center for Applied Management (WittCAM): The Wittenberg Center for Applied Management, better known as WittCAM, offers alternative coursework to upper-level students who are focused in management. As an alternative to a classroom-based course, WittCAM provides students with the opportunity to serve as consultants to businesses, government agencies and not-for-profit organizations. Students and organizations have a choice of opportunities, including: Small Business Institute, Project Management Assistance (WittConsultants), Management Internship, and the Creative Advertising Partnership. Students usually work in groups, but may work as individuals on projects. Some projects require specific business course prerequisites; these vary depending on the nature of the project. Directed by Professor Pamela Schindler with assistance from a student director and assistant student director, more than 496 students have been involved in WittCAM projects in the last 30 years.