A Credit to Witt
September 15, 2010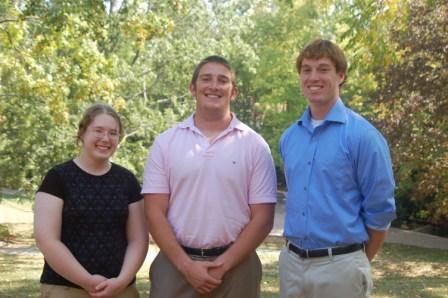 Springfield, OH—This fall a local financial institution will be getting help from three Wittenberg seniors. WittConsultants Jake Kerger, Tom McElwee and Lynaia Martin will be assessing the attitudes of the firms various constituencies while completing a SWOT analysis prior to developing marketing recommendations and proposal of a promotional plan.
Meet the WittConsultants:
Lynaia Martin '10 is a senior Management Major at Wittenberg University from Fairborn, Ohio. Martin has served since 2007 as student manager for the Computing Solution Center at Wittenberg University. She is responsible for overseeing assistance to both students and staff with their connection to the Internet, as well as with any virus removal. She has been trained on numerous programs on both Windows Operating Systems as well as Macintosh Operating Systems. Martin is also responsible for answering questions posed over the phone and assisting callers with their computing issues. Using her knowledge from marketing management, Martin assists in marketing the services that the Wittenberg Computing Center has to offer.  Martin's future plans include working as a hospitality manager in the Hotel Industry, as well as a part-time associate with Walt Disney Company in Orlando, Florida, where she will assist people in making reservations and help make their travel planning easier.
Tom McElwee '11 is a senior business major at Wittenberg University from Stilwell, Kansas. He is currently interning for the professional soccer team the Columbus Crew as a marketing and promotions team member.  As a member of this team he goes to local communities to promote the crew and helps host season ticket holder events.  On campus he is a manger of the sports marketing and promotions team for Wittenberg University, he is also a member of Student Athlete Advisory Committee.   Also he is involved in track and field where he throws javelin and has shown his ability to lead the track team for future seasons.  In his future he inspires to work for a professional sports team as a marketing team member.
Jake Kerger '10 is a senior from Louisville, Kentucky with a double major in business (concentration in marketing) and English. Kerger is currently employed by the Wittenberg University Athletic Department as a sports marketing intern, where he not only develops marketing strategies and tactics, but also oversees and manages a marketing and promotions team of fifteen workers. Last summer, the Louisville Fire Arena Football Team employed Kerger as a sports marketing Intern. Here, Kerger wrote online articles and promotions for the team's webpage and worked with the media at all home sporting events. He has also written sports articles for The Wittenberg Torch and The Kentucky Youth Sports Scene. Currently, Kerger is participating in his fourth season of intercollegiate football with the Wittenberg Tigers and was recently nominated by the University as an Academic All-American. When not on the gridiron, at work, or in the classroom, Kerger can be found participating in and raising money for service events such as The Relay for Life. In addition, Kerger is a member of the academic honorary fraternity Phi Eta Sigma and the business honor society of Tau Pi Phi. He's also a provost scholar-athlete, a two-time member of the Dean's list, and a recipient of Wittenberg's "Big W" award.  After graduation Kerger plans to further develop his leadership skills as an officer in the military.
- End -
Wittenberg Center for Applied Management (WittCAM): The Wittenberg Center for Applied Management offers alternative coursework to upper-level students who are focused in business. As an alternative to a classroom-based course, WittCAM students serve as consultants to businesses, government agencies and not-for-profit organizations. Students and organizations have a choice of opportunities, including: Small Business Institute, WittConsultants, Management Internship, and the Creative Advertising Partnership. Students work as groups on projects. Some projects require specific management course prerequisites; these vary depending on the nature of the project. Directed by Professor Pamela Schindler, more than 483 students have been involved in WittCAM projects in the last 30 years.