December 12 , 2008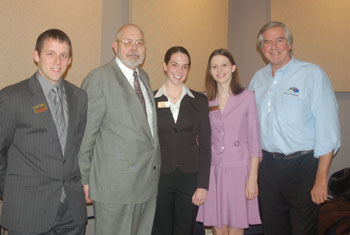 Springfield, OH---WittCAM students Maureen Walsh, Sara Wheeler, and Todd Carter worked this semester on a collaborative project with Audio Bookshelf, a business owned by Wittenberg alumnus, David Dittmann '66.  Audio Bookshelf produces audio books, selling primarily to school and public libraries.  Throughout the semester, the team completed extensive research with the primary goal of compiling recommendations for the 2010 title releases for Audio Bookshelf.  Team members interviewed several local librarians to investigate how and why librarians purchase audio books.  Next, the team created an online survey that was e-mailed to more than 500 librarians throughout Ohio.  After reviewing the information collected, the team worked to create a carefully considered list of recommendations for new titles for Audio Bookshelf to negotiate, produce, and release in 2010.  The team also proposed to Dittmann an Advisory Board composed of three Ohio librarians to serve as consultants for future title release suggestions.  The group presented their semester's work to Audio Bookshelf owner, David Dittmann and university staff at a presentation in the Shouvlin Center.
Maureen Walsh '09 is a senior management major with minors in theatre and music from Highland Heights, Ohio.  She is very involved in Union Board, serving on the executive board for two years as the special weeks and comedy chair.  This past summer Walsh studied abroad in Lesotho, Africa, immersing herself in the culture while doing service work.  She interned the remainder of her summer in the Richmond Hts. Recreation department.   Following graduation, Walsh plans to pursue a career in event planning.
Sara Wheeler '10, a junior from Bucyrus, Ohio, is a management major with a concentration in business law and a minor in English.  Wheeler has spent two summers participating in law-related internships, first with a private law firm, then at the Crawford County Municipal Court.  At Wittenberg, Wheeler serves as treasurer of the Pre-law Society and is a member of the Honors Program.  Her other campus activities include Student Senate Hearing Board, Habitat for Humanity, Wittenberg Astronomical Society, Swing Dance Club, and Alpha Lambda Delta freshman honorary.  After graduation, Wheeler plans to attend law school. 
Todd Carter '11 is a sophomore management major with a concentration in finance from Troy, Ohio.  Carter is a Resident Advisor and an honors student at Wittenberg University.  He has worked as a landscaper, Ohio High School Athletic Association baseball umpire, and as assistant director of YMCA youth sports. He is looking forward to spending next summer as an Internal Audit Intern with ALDI in Chicago. Carter has volunteered for the Red Cross, service learning program, and Troy Little League Football. He was admitted into the Phi Eta Sigma freshman honorary. After graduation, Carter plans to pursue a career in finance.