December 10 , 2008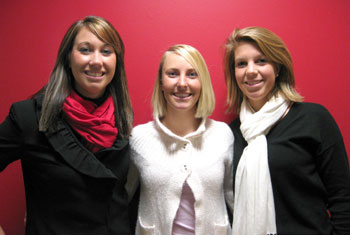 Springfield OH--Senior WittCAM project management assistants Ashley Manson, Cait Mather and Beth Vonderbrink have spent this past semester researching innovative businesses within Clark and Champaign Counties.  They began the semester developing a nomination panel comprised of business and community leaders. This panel nominated more than twenty businesses for consideration for the 2009 Entrepreneurial Business Award.  The team also developed advertising to generate ads from the community; they worked with the Springfield News-Sun and the Urbana Citizen to promote the award through various advertisements that ran during October. In addition they also promoted the award at one Springfield Rotary weekly meeting.  The team received  a total of 5 nominations  through these efforts.
Since receiving the nominations the team has been diligently researching each business through phone-screens, on-site visitations, and outside research. Through this research the team has learned about many "hidden treasurers" Clark and Champaign Counties have to offer.  The team is currently narrowing the finalist list, and will be presenting their research to a panel of judges in mid-January.
Ashley Manson '09 Ashley Manson '09 is a senior management major from Covington, Ohio.  With the Alumni Relations Office, Manson assisted in planning Witt Nation, a summer road trip developed to reconnect Wittenberg with its Alumni.  This past summer, Manson  interned with Center City Association on projects dealing with Springfield's downtown development and assisted in developing the research foundation for a Springfield Pride initiative designed to change Springfield's perception of itself.  As sisterhood chairman for the Tau Gamma Chapter of the Chi Omega Sorority, Manson planned many events including a Christmas party, Mom's Weekend and Parent's Weekend. As Recruitment Chairman for Chi Omega her junior year, she guided the successful recruitment of more than 25 women. Manson now serves as president for the Tau Gamma Chapter where she manages the activities of more than 80 young women. Manson received the 2008 Chi Omega Pauline Burnett Award for excellence in business.  She is also a member of Order of Omega, Tau Pi Phi honor society and the vice president of communications for WittInvest.  Manson plans a career within the marketing or advertising field.
Cait Mather '09 is a senior management major and history minor from Mason, Ohio.  A member of the women's varsity lacrosse program, Mather represents the team on the Student Athlete Advisory Committee (SAAC), a sounding board for athlete concerns and questions.  Mather serves as treasurer of Mortar Board, a highly regarded national honor society, and is a member of Tau Pi Phi business honorary and Chi Alpha Sigma, a national college athletic honor society.  This past summer, Mather completed her second finance internship with Ethicon-Endo Surgery, a Johnson & Johnson Company. She has accepted an offer to work in finance for Johnson & Johnson.
Beth Vonderbrink '09 is a senior Management major with a concentration in Marketing from Cincinnati, Ohio.  This past summer, Vonderbrink participated in sales and marketing internship with SafeSchools, LLC.  She is a member of both the Wittenberg's varsity women's field hockey and lacrosse teams where she was appointed captain both her junior and senior years.  As a member of Chi Omega, she has held numerous positions including Personnel Chair and enjoys participating in philanthropic fundraisers that benefit the Make-A-Wish Foundation.  Vonderbrink enjoys spending time with family and friends, traveling, and being involved in various campus activities; she plans to work in the marketing and sales field after graduation.