WittCAM Students Prepare to Help Market a Non-Profit Industry Trade Association
September 9, 2009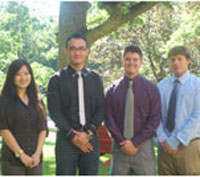 Springfield, OH--This fall, WittCAM project assistants Kegan Christian, Kevin Jansen, Jun Lee, and Liaoliao Liang will be working with president of Open FPGA, Eric Stahlberg to help market a non-profit industry trade association, Open FPGA, designed to develop industry standards for FPGA computer software. The team will strive to increase visibility of the organization in the Asian market, while working to increase membership and involvement through a number of carefully planned marketing strategies.
Kegan Christian '10 is a senior from Cleveland, OH majoring in management with a concentration in accounting. During Christian's four years at college, he has been involved in Interfraternity Council as president, hockey club as captain, Emerging Leaders, intramurals and served as a peer mentor for a freshman class. Christian is also an active member within his fraternity Phi Gamma Delta where he served as Treasurer for one year. He also worked as an assistant for the Student Activities Office. Christian plans to pursue a career in accounting with a major accounting firm.
Kevin Jansen '10 is a senior management major from Toledo, Ohio. During his time at Wittenberg, Jansen has been a member of the Phi Gamma Delta fraternity and has served as the Chapter Historian and Philanthropy Chair. He is a three-year member of Up 'til Dawn, a philanthropic group that raises money for St. Jude Children's Research Hospital, serving on its executive board as both the logistics and recruitment chairmen. He is also a member of the Wittenberg Facilities and Environment Committee, has been an Orientation Assistant and a member of Emerging Leaders. Upon his graduation, Jansen plans to use the skills he learned at Wittenberg to pursue his interests in marketing communications, event planning and project management.
Jun Kul Lee '10, from Seoul, South Korea, is a Wittenberg senior majoring in management. He was a summer intern for Keppel Corporations, INC., where he worked as a management assistant on a project to build the largest safety training complex for marine industry workers in Southeast Asia. A political science minor, Lee spent two years in the Republic of Korea Marine Corps, serving as an intelligence analyst. Upon graduation, Lee plans to start a retail business in South Korea and in Singapore.
 
Liaoliao Liang (Nora) 10', from Chengdu, Sichuan, China, is a senior at Wittenberg University, double majoring in management and international studies-economic track. She has served as a Chinese tutor in the language lab, and also worked as a research assistant with the political science department. Liang worked with a group of 4 students during the spring of 2009 developing a marketing program for an after-school enrichment program. Liang currently works as a resident advisor and has an internship with the East Asian Institute. She is a member of Kappa Delta Sorority, serving as chair of informal recruitment, a member of American International Association, Outdoor Club, and Astronomy Club. Liang plans to earn her master degree in Public Relations after graduating from Wittenberg University and having a management career in advertising or public relations.
###
Wittenberg Center for Applied Management (WittCAM): The Wittenberg Center for Applied Management, better known as WittCAM, offers alternative coursework to upper-level students who are focused in management. As an alternative to a classroom-based course, WittCAM provides students with the opportunity to serve as consultants to businesses, government agencies and not-for-profit organizations. Students and organizations have a choice of opportunities, including: Small Business Institute, Project Management Assistance, Management Internship, and the Creative Advertising Partnership. Students may work in groups or as individuals on projects. Some projects require specific management course prerequisites; these vary depending on the nature of the project. Directed by Professor Pamela Schindler, more than 450 students have been involved in WittCAM projects in the last 30 years.